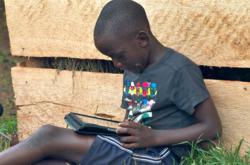 The real-life Walter continues to inspire all who experience his story...
(PRWEB) February 21, 2013
This past Christmas the interactive eBook App was released globally on iTunes. The App's Facebook Page is only two months old and already has over 10,000 Likes. Apple iPad owners worldwide have downloaded it from the iTunes Stores in: Australia, Brazil, Canada, Denmark, Korea, Mexico, New Zealand, Norway, Sweden and the United States.
Josiah Thiesen, Director of "Walter's Flying Bus," worked with Ugandan Art Therapist, Jaffer Buyinza (who also is a character in the story) to have the kids of Ekisa Orphanage use original art as an expression of their hopes and dreams. "Walter truly has been an inspiration. He would draw a big bus and fill it with all of his friends." Thiesen commented in one of the short-documentary bonus features within the App.
Michael Gallagher, one of the Executive Producers of the App, just returned from a trip to Uganda with his eleven-year old daughter, Emily. They had the privilege of premiering "Walter's Flying Bus" to Walter and the other orphaned children who inspired it.
"After sharing the App with the kids, Walter returned to the iPad again and again to go through every page, usually surrounded by other kids." reported Gallagher.
Walter's character is on the quintessential Hero's Journey. He sees the value in what others call "a piece of junk," and finds hope even for an old, abandoned bus nobody else wants. Walter's dream comes to life as his friends help fix the broken down bus, then join him picking up other orphans with special needs as their adventure rolls – and eventually flies – through its beautiful African setting.
Each child has something unique to contribute to the bus and to their inspiring, shared journey. The real-life Walter has the same hope-filled attitude, and continues to inspire all who experience his story.
"Walter is a hero in the greatest sense, because he brings out the importance of every single person," Gallagher commented. "Our hope is that his story will inspire broad awareness and support for the heroes around the world who care for, foster and adopt Walter and kids like him."
About ChosenandDearlyLoved.org:
As people continue spreading the message of "Walter's Flying Bus," the App and its "stars" can bring hope to many more orphans with special needs globally. To Like the "Walter's Flying Bus" Facebook page: click here.
Believing in the dignity and value of all children, the producers donate 100% of after-tax profits to help provide permanent, loving families for orphans with special needs around the globe.
To purchase the animated eBook, please click here and visit:
"Walter's Flying Bus" on iTunes.

Apple iPhone App Launching Spring 2013 -