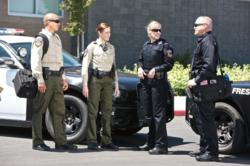 The vendors are putting together a whole duty gear system that is lighter and easier to maintain, and that provides comfort during long shifts.
Upper Marlboro, MD (PRWEB) February 20, 2013
Two new videos and associated blog entries were posted on the Protective Services Leadership Insights section of the Protective Services Training Academy (PSTA) web site this past week. Chris Perez, an acclaimed expert on protective service officer performance, training, and career development, offers tips in his blog posting on how protective services officers should prepare for their upcoming firearms qualification testing. Security products and gear expert Jerry Immler reflected on product categories he is excited about in 2013.
"I propose that PSOs start the transition to coming to the range on a regular basis three to four months in advance of their firearms qualification," said Perez. "PSOs should gain more familiarization with the unholstering and addressing of the target, and getting used to turning targets."
Perez said that there are numerous options protective services officers can take to ensure they are ready for their firearms qualifications, such as dry-fire exercises that candidates can even do from home and other inexpensive tools that do not require the assistance of a certified trainer.
"I've seen many PSOs wait until the last minute to prep for their firearms qualifications and the results can be poor," Perez said. "They need to take the time to prep, spend some additional time at the range, and come to the qualification prepared."
Immler said that uniforms, duty gear, and covert wear are the categories he is most excited about in 2013.
"Many manufacturers are trying to create a performance-based uniform to supply officers with durability, longevity, and comfort in all weather conditions," said Immler. "PSOs get the moisture wicking performance from body armor, and the comfort and appearance of a uniform shirt."
Immler said that the shift over the past few years from leather to nylon and plastics has opened up new product offerings. "The vendors are putting together a whole duty gear system that is lighter and easier to maintain, and that provides comfort during long shifts."
He also said that there are new trends in covert wear that excite him. "I'm impressed with a new 5-11 covert vest that we offer, which is a midway garment designed to be worn over standard clothing. The pocketing design is fairly standard, with hip pockets and a standard chest pocket, but there is also a hidden chest pocket with Velcro on the inside for other attachments. This allows the PSO to go through a pass-through and stay concealed while still accessing his equipment," he said.
Perez produces blog entries on topics that affect protective services officers and military and law enforcement personnel that are considering career moves into security services. Immler frequently comments on new security products and offerings for the protective services trade.
About The Protective Services Training Academy (PSTA)
Protective Services Leadership Insights is a thought leadership service from the Protective Services Training Academy (PSTA) and features insights on protective service company operations, protective service officer career advice, and security product and gear review. The PSTA is the premier training venue in the Mid-Atlantic region for the protective services community. The PSTA is "Where the Region's Top Protective Service Organizations and Professionals Come to Train." Known around the region as simply "The Academy," the PSTA offers state of the art features not found at other facilities, including a full array of protective service training capabilities. The PSTA is located in Prince Georges County, Maryland adjacent to Andrews Air Force Base, and approximately 11 miles from the Capitol. It features a retail store on premises fully stocked with high-quality firearms, ammunition, and other equipment and supplies, in addition to the area's largest selection of 5.11 Tactical apparel and gear.