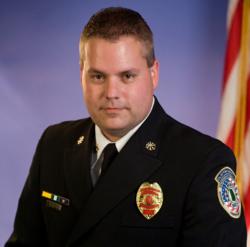 Orange Beach, AL (PRWEB) February 21, 2013
Columbia Southern University (CSU) and the Metro Atlanta Fire Chiefs Association presented a scholarship to Landry Merkison, an assistant chief of emergency services with Clayton County (Ga.) Fire and Emergency Services.
The scholarship covers tuition for up to 24 months for one specific online degree program. Merkison, who says he has an "insatiable thirst for knowledge," plans to use the scholarship to pursue a bachelor's degree in fire science administration.
"As I look to the future of my career, I realize that I must begin to further prepare myself to assume a future role as chief of the department," explained Merkison. "This is a goal that I have had since I started as a firefighter. I must ensure that I have prepared myself to the best of my ability…"
Merkison said his love of learning began at an early age.
"As a young child, I would follow behind my father as he worked as a mechanic into the early morning hours. He never tired of me asking one question after the next and taught me that I should never rely on others to do what I can learn to do myself. He also taught me that I had a responsibility to pass that knowledge on to others," said Merkison. "It was the lessons learned from those nights in my father's garage that gave me drive and passion to become a public servant."
The Metro Atlanta Fire Chiefs Association is a CSU learning partner whose members receive a learning partnership grant which allows any partner's employees/members to save 10 percent on tuition. Partners' employees/members also qualify for various scholarship opportunities with CSU.
CSU offers online associate, bachelor's, master's and doctoral degree programs in various fields including criminal justice, fire science, occupational safety and health, and business administration.
To learn more about becoming a learning partner with CSU, please call 888-785-3006 or send an email to scholarships (at) columbiasouthern (dot) edu. If you would like learn more about CSU, please visit http://www.ColumbiaSouthern.edu.