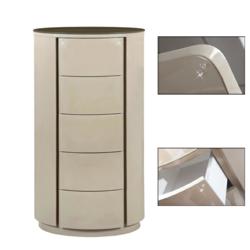 FurnitureInFashion sets High Precedent with the Launch of the Tiffany Bedroom Furniture Range
(PRWEB UK) 23 February 2013
This exquisite drawer tall chest is a part of gorgeous Tiffany bedroom furniture collection of FurnitureInFashion and is a great addition for any room with space or storage issues. FurnitureInFashion offers practical and beautiful contemporary ranges of bedroom furniture in various modern designs along with storage facility in form of drawers, side tables, wall cabinets and other storage furniture items. Tiffany 5 drawer chest is a part of storage solution offered by FurnitureInFashion. With its sleek manufacturing and ample storage area, this drawer chest can be a great addition for any bedroom. The champagne color of the drawer chest can match well with any given bedroom theme and bedroom furniture.
"We at FurnitureInFashion are committed to provide the best quality and design with maximum storage facility in our bedroom furniture ranges. We are continuously updating our bedroom furniture catalogue with the most modern and contemporary furniture items that are practical in design and usability. The launch of Tiffany bedroom furniture range is great news for people with luxurious and classic home décor taste. You can find the most extensive range of products in our Tiffany bedroom collection and Tiffany gloss 5 drawer chests is a part of this collection. We are hoping to attract good sale with this launch as people are looking out for home items that have sleek structure but offer more functionality," said the Managing Director and CEO of FurnitureInFashion Asad Shamim.
In bedroom furniture sets, Tiffany Champagne gloss tall chest is a stunning and unique carved design offered by FurnitureInFashion. The gloss impact of the surface combined with champagne color gives this beautiful drawer tall chest a very luxurious and chic look. This beautiful tall chest of drawer comprises of 5 drawers with ample storage space. These drawers have soft closing function with smooth movement. To add a touch of elegance and luxury, the top drawer has a diamante design which makes this drawer chest extremely elegant and modern. Mr. Shamim said, "We have ensured that our products can provide maximum storage without taking a lot of space of the bedroom. This beautiful champagne chest of drawers is an ideal storage solution for a room less spacious. The homeowners can keep their bedrooms clutter free by incorporating this fabulous storing chest."
Best materials have been used in the manufacturing of this beautiful item with German processes. Customers can also have tinted glass top on this chest of drawers for only £19.95. This can further add luxury and style in it. FurnitureInFashion also offers bedroom furniture set with Tiffany champagne gloss chest of drawers. Bedroom furniture range includes stunning bedside cabinet, gloss double bed, Plasma TV unit and drawer dressing table with mirror. This beautiful bedroom furniture set is available at extremely affordable price and can be an ideal addition for a modern bedroom use.
FurnitureInFashion is currently offering new bedroom furniture sets in its online catalogue including beds of every size. The bedroom furniture ranges of FurnitureInFashion include White Gloss, Madagaskar Toddler Ashtree, Lorna white gloss and Felix Whie/Canadian oak bedroom furniture collections. All these bedroom furniture sets are available at extremely affordable prices. FurnitureInFashion ensures highest standard of furniture and manufacturing processes.
About FurnitureInFashion
FurnitureInFashion is a UK based online retail business. It supplies furniture items from its German based warehouse and has a showroom in Bolton, UK. The company provides everything from umbrella stand wall art and room dividers to bedroom, bar stools and computer tables. FurnitureInFashion offers excellent free delivery within UK and has a fantastic customer service as well. For further information and details about the sale, visit http://www.furnitureinfashion.net