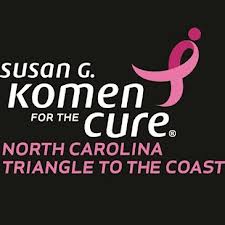 Race for the Cure continues to create an atmosphere of inspiration and hope for the lives touched by breast cancer
Wilmington, N.C. (PRWEB) February 20, 2013
Nine community health organizations have been awarded the "Passing the Promise" grant to aid their participation in the March 2nd Inaugural Wilmington Race for the Cure®. The annual award is granted to community organizations by Susan G. Komen for the Cure® North Carolina Triangle to the Coast Affiliate in order to bring survivors and co-survivors to the race regardless of their ability to pay registration fees."
Since its inception in 1997, the Triangle Race for the Cure has strived to create an event that embraces all members of the breast cancer community. This goal lead to the development of the Passing the Promise Grant in memory of Jeanne Peck, founder of the Komen Triangle Race. With the Inaugural Wilmington Race for the Cure, the grant has extended coverage to new areas of southeastern North Carolina.
"For me this has been a new and unforgettable experience; the ability to be somewhat involved with the campaign and the ability to share with the community a clear way to communicate that prevention is always the best way to avoid any illness, in this case breast cancer," said a representative of El Pueblo, who has received the grant in previous years.
The grant allows local organizations to to recruit participants and then supports a follow-up with these individuals after the event, while also securing transportation to and from the Race. The goal is to have these participants "Pass the Promise" to others in their area who could not attend the Race.
"Year after year, the Race for the Cure continues to create an atmosphere of inspiration and hope for the lives touched by breast cancer," said Pam Kohl, executive director of the Komen North Carolina Triangle to the Coast Affiliate. "The more people that can be introduced to this experience and connect with others, the more effective it is."
Hosted by the North Carolina Triangle to the Coast Affiliate of Susan G. Komen for the Cure, the family event will be held Saturday, March 2, and will feature 5K Race/Walks, a Kid Zone, and a Survivor Breakfast, all in support of a cause dedicated to saving lives. Click here to register for the Race
The following organizations received the Passing the Promise for the Inaugural Wilmington Race for the Cure:

Sisters of Hope (Duplin County)
Onslow Memorial Hospital (Onslow County)
Lincoln Community Health Center (Durham County)
Brunswick County Health Department (Brunswick County)
Rex Hospital Foundation (Wake County)
El Pueblo (Wake County)
Health Connection Network (New Hanover County)
Lee County Health Dept (Lee County)
Duke Women's Wellness Clinic (Durham County
Contact:
Brad Young
Marketing & Communications Manager
Susan G. Komen for the Cure North Carolina Triangle to the Coast Affiliate
133 Fayetteville St., Suite 300 | Raleigh, NC 27601
p: 919.493.CURE (2873) | local toll free: 866.971.CURE (2873) | f: 919.361.8049
http://www.komennctc.org
byoung(at)komennctc(dot)org