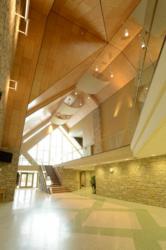 WoodTrends Acoustic Wood Ceiling Panels Quiet House of Worship
Owatonna, Minnesota (PRWEB) February 22, 2013
Located in Owatonna, Minnesota, the Trinity Lutheran Church had outgrown its existing facility.
Choosing to opt for a large addition to their existing facility, this house of worship incorporates many advanced building materials and techniques in a timeless design featuring natural materials such as wood and stone.
Designed by I & S Group of Faribault, Minnesota with installation by Twin City Acoustics of Plymouth, Minnesota, the WoodTrends Elite Acoustical Wood Ceiling Panels in the bird's eye maple dominate the Narthex. The team of Sound Seal and Twin City Acoustics has helped to create a space parishioners can be proud of for many years to come.
About Sound Seal
Sound Seal is a leading manufacturer of architectural and commercial acoustic noise control products and offers a wide product selection to the soundproofing industry. Sound Seal has stayed true to this vision and consists of three product lines: The Architectural Division which handles interiors, The Industrial Division which deals with outdoor and in-plant noise control, and the Impacta Flooring Division which deals with floor underlayments. For more information visit http://www.woodtrends.com and http://www.soundseal.com.