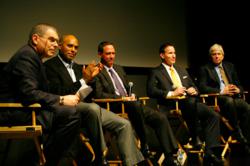 (L to R) Host Ed Randall, Yankee Reliever Mariano Rivera, former Yankee Pitcher David Cone, Former Yankee Catcher John Flaherty, and Yankee Pitching Coach Larry Rothschild

Photo by Andrew Richter/imagesAR
(PRWEB) February 21, 2013
Just before Spring Training, on January 22, 2013 at the School of Visual Arts Theatre in New York City, Ed Randall's Fans for a Cure to Strike Out Prostate Cancer – a unique charity solely dedicated to educating men over 40 and their families on the life-saving advantages of early detection of prostate cancer – held a successful fundraiser named "An Evening with Mariano & Friends".
The host was WFAN's Ed Randall. His guests were future Hall of Famer Mariano Rivera… and his friends: former Yankees David Cone and John Flaherty, and current Pitching Coach Larry Rothschild.
A full house of almost 500 fans witnessed more than just an exciting hot-stove, roundtable discussion on baseball–past, present and future–by major leaguers. What they saw was a living demonstration of friendship in the truest sense of the word.
Celebrity sports announcer Ed Randall–a prostate cancer survivor–was there to raise money for the charity he founded when a doctor who detected his prostate cancer early enough saved his life. Ed was doing a very friendly thing for society at large.
Mariano was there because a very close friend of his of 20 years whose life was also saved because of early detection of prostate cancer over ten years ago, asked Mariano to do this for him and the charity – again, based on spreading the word about early detection. Mariano was doing a very friendly thing for his buddy, and us.
And then there was Cone, Flaherty and Rothschild – all present to help support their teammate, Rivera, who would have rather been standing on the mound, in front of 50,000 people in the stands, and a few million more watching on TV, than sitting on stage answering questions for two hours. Particularly about himself!
You see, Mariano Rivera is one of those rare individuals who selflessly contributes countless hours (days, weeks, months and years) to those in need, and donates millions of dollars to causes that enhance the quality of lives of the less fortunate individuals and families---whether they be in Panama or right down the block in New Rochelle. Mariano builds churches and homes and rebuilds lives…quietly, and unassumingly. He's extremely modest, almost to a fault. And lives his life off the mound very similar to the way he successfully lives it on the mound – with passion, expertise, utter effectiveness, and above all, faith. Faith in God, faith in his teammates, and faith in himself. He doesn't talk, he does. So, talk about friendship…
David, John and Larry would not let their beloved teammate fly solo. They graciously – and generously - showed up and sat on stage with their buddy (with David re-scheduling a prior engagement, John re-arranging his family schedule, Coach Larry making the trip from Florida after visiting his ill father in Chicago) and were able to share the questions – and answers – and actively partake in the discussion, as they helped fill two hours with interesting anecdotes and never-before-told stories.
One day you will find Rivera the Magnificent in a place called Cooperstown. But on that one cold night in January, we found him pitching for us, on our stage, helping us fight prostate cancer. And just as importantly, we also found different kinds of "Hall-of-Famers". The kind of friends who will always be there to help. That's the real Cooperstown.
ABOUT ED RANDALL'S FANS FOR THE CURE
Ed Randall's Fans for the Cure is a 501 (c) 3 charity specifically dedicated to educating men over the age of 40 – and their families – on the life-saving advantages of early detection of prostate cancer. For those who want to help or learn more about the charity, simply visit http://www.fans4thecure.org.
Thank you.
CONTACT: JOE NUNZIATA- 914-490-2002
joseph(at)nunziata-advertising(dot)com