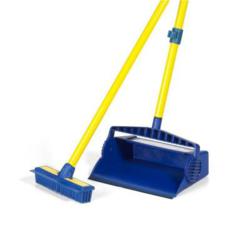 St. Louis, MO (PRWEB) February 25, 2013
Select Yellowtop products are now available for purchase on Home Depot's web site, homedepot.com, company officials announced today. Consumers will be able to purchase both the Smart Broom 1600 series and the Smart Broom Spill Cleanup Tools when shopping on the website.
"We are pleased to offer our innovative products to homedepot.com shoppers," says Jeff Linihan, Yellowtop president. "Our goal is to have more consumers see the benefits of smart and sustainable cleaning in their day-to-day lives."
The Smart Broom 1600 series is a multipurpose rubber bristle broom that offers a 3-in-1 functionality by sweeping, scrubbing and squeegeeing. The broom also cleans wet or dry messes and picks up coarse and fine materials. The Smart Broom provides a smart cleaning solution indoors or out.
"Not only is the Smart Broom extremely versatile and durable, it's washable, chemical resistant, and recyclable," says Linihan. "Those features make these brooms a great choice for anyone looking for an effective cleaning solution, may it be commercial contractors or DIYers."
The Smart Broom Spill Cleanup Tools will also be available via homedepot.com. This product combo includes the Smart Broom 900 plus an 11-inch upright dustpan, which offers a patented 135-degree rotation and a squeegee blade edge, making spill cleanup easy and efficient.
When visiting homedepot.com, search for "smart broom" to locate the products now available for sale. For more information on Yellowtop products, visit yellowtop.com.
About Yellowtop
Yellowtop is a veteran-owned St. Louis, MO based business that promises to provide cleaner, safer environments through sustainable cleaning solutions, focusing on saving clients time and money by providing superior products and peace of mind with innovative and unique solutions. All of Yellowtop products are 100% made in the USA.
Yellowtop is committed to providing clients with environmentally sound products, such as the top-selling Smart Broom. The company has implemented internal policies and procedures with a goal of elminating non-recyclable waste from all facilities. Visit the company web site at http://www.yellowtop.com .