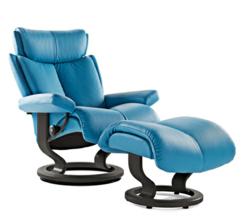 We have the recliners sorted by style, size and color; but all in a dedicated area of our store. Customers are invited to come in and learn more, or to receive assistance in finding their own personal comfort—there really are a lot of options
Seattle, WA (PRWEB) February 21, 2013
Savvy Leather Sofas announced today that Ekornes' Stressless Recliners have been added to their product line-up. Savvy Leather Sofas has been designated as the exclusive retailer of the Stressless brand for the southwest region of Seattle, WA; notably including West Seattle, Mt. Baker, Beacon Hill, the International District, and Sodo.
Stressless products are built around the patented Plus System™, which simultaneously adjusts the back and head supports of the recliners as the seat is reclined, in order to provide continuous support and comfort in all available positions. Known for comfort, the recliners are also endorsed by the American Chiropractic Association. According to Stressless brand ambassador Steve Luke, each model provides "total body support with proper skeletal and spinal alignment for better circulation; which equals better health."
A gallery space with a vast selection of the new products has been built on the north side of the showspace. "We have the recliners sorted by style, size and color; but all in a dedicated area of our store. Customers are invited to come in and learn more, or to receive assistance in finding their own personal comfort—there really are a lot of options," said VP of Sales Max Alcabes.
The Norwegian-made Stressless recliners are available in over 130 upholsteries, including over 55 100% top-grain hides. The manufacturer's stocking program, based in New Jersey, offers delivery of their most popular selections in under a month; but customers also have the option to special order an item in any cover out of Norway, with a lead-time of 3-4 months.
The entire line has been added to the Savvy's e-commerce site as well. Customers are able to filter styles in much the same way, and can digitally upholster a chair in the leather of their choice using the retailer's online Design Center. Quick-Ship options are available to reflect the stocking program out of New Jersey.
About Savvy Leather Sofas
SavvyLeatherSofas.com is a specialty retailer of leather furniture in the living room, reclining, and sofa bed divisions. With both a retail store and a strong e-commerce site, Savvy Leather Sofas provides customers with an unmatched combination of selection, low prices, and custom options across the leather furniture category.