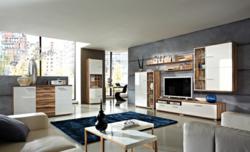 FurnitureInFashion is offering exclusive living room furniture ranges for 2013
(PRWEB UK) 24 February 2013
FurnitureInFashion, a leading online furniture retailer, is excited to announce the release of exclusive living room ranges for 2013. The new living room furniture features affordable and trendy pieces from FurnitureInFashion's latest line of modern and contemporary furniture. The new living room ideas offered by FurnitureInFashion include coffee tables, TV units, sideboards, display cabinets and general accessories. Such modern living room furniture has become customary and is available at highly attractive prices. Living room is one of the most important rooms in the house. Styling and decorating it with most stylish furniture on the market is a desire of every homeowner.
"Our new and exclusive modern living room furniture line features our latest living room furniture collections alongside easy to implement design tips to furnish a living room at affordable price," says Asad Shamim, FurnitureInFashion CEO. "At FurnitureInFashion, we aim to keep prices low so fresh starts are possible for our customers without breaking the bank."
With rapid increase and change in living room furniture range, more variations in products are becoming widely available. FurnitureInFashion understands how difficult many customers can find browsing for the right living room furniture products. Therefore, the company has combined different modern living room furniture units to create the ultimate package. Each living room furniture collection features a wonderful design setting to help create unique and designer look in a living room. All items of modern living room furniture collections feature a company guarantee to help consumers gain the most out of their living room furniture range for the years to come.
FurnitureInFashion offers several living room ideas. The catalogue of modern living room collections at FurntiureInFashion includes ranges such as TV Combi White & Ashtree range, TV Combi white & Baltimore walnut range, Cool white range, Cool white and Walnut range, Freestyle White range, Freestyle Walnut range, Torino Acacia range, Nevada Baltimore Walnut and White range, Monza range in Canadian Oak & Gloss white, Tavola Canadian Oak range and Linea living room range. These living room ranges include TV stands, storage cabinets, display cabinets, satellite boxes, bookcases, wall shelves, coffee table and several other important accessories. The modern living room furniture collections have been designed by fusing Italian design concepts with the help of authentic German manufacturing processes. The CEO of FurnitureInFashion said, "These living room furniture collections have been specifically designed by the employees at the company that excel in creating fantastic styles and designs."
He further added, "We are delighted with the impressive range of modern living room furniture that is now available at FurnitureInFashion. We would definitely encourage our customers interested in buying some exquisite and attractive living room furniture products for a fresh start to 2013. Now is a good time for consumers to start revamping their living rooms in style and organization."
At FurnitureInFashion, the company stock living room furniture items in an extremely diverse range of sizes and prices. For smaller living rooms, smaller variations of living room furniture products can be purchased. If space is not an issue, then larger furniture products are available to create more enhanced and luxurious theme. As items are available in varied sizes, finding exactly what consumers need is going to be easy.
People seeking to purchase modern living room furniture collections from FurnitureInFashion should visit the retailer's website or showroom located in Bolton.
About FurnitureInFashion
FurnitureInFashion is a UK based online retail business. It supplies furniture items from its German based warehouse and has a showroom in Bolton, UK. The company provides everything from umbrella stand wall art and room dividers to bedroom, bar stools and computer tables. FurnitureInFashion offers excellent free delivery within UK and has a fantastic customer service as well. For further information and details about the sale, visit http://www.furnitureinfashion.net