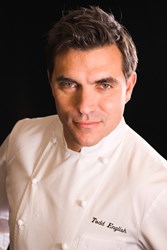 It's wonderful to finally be able to create a casual, yet exceptional dining experience in Mexico City, where visitors can relax among friends and take in all the intoxicating scents and flavors of authentic Mediterranean cuisine.
MEXICO CITY, MEXICO (PRWEB) February 21, 2013
Located in the up-and-coming, high-rise business district of Sante Fe in Mexico City's western end, this newest installment of Olives brings English's interpretive Mediterranean cuisine and cozy ambiance to the skyscraper lined streets of the upscale zone, where guests will enjoy dining on savory coastal dishes that include fresh seafood, made-to-order cuts of meat, and wholesome seasonal ingredients from Olives' rustic kitchen.
"I'm thrilled to be bringing the Olives concept to Mexico, and to capture a brand new dining audience in one of the world's most exciting cities," said Star Chef, Todd English. "I have always been a fan of Mexican culture, and the people of Mexico have given me nothing but the greatest love and support. It's wonderful to finally be able to create a casual, yet exceptional dining experience in Mexico City, where visitors can relax among friends and take in all the intoxicating scents and flavors of authentic Mediterranean cuisine."
English's newest venture is the first in the Latin American region for Olives, whose other locations include Las Vegas, New York City and Boston. The restaurant is an ideal fit for the newly redeveloped Santa Fe neighborhood, home to the country's largest shopping mall and to some of Mexico City's most breathtaking modern architecture. The world-famous, James Beard award-winning chef brings his decades of culinary experience to Mexico where he will count on his revered pastas, fresh seafood and wood-fired flat breads to woo the local clientele as well as visitors to the city.
From his earliest experience in a professional kitchen at the age of 15, to his education at the Culinary Institute of America, and his tenures cooking in the best restaurants in Boston, New York and Italy, English has continued to make a name for himself in the international culinary world by constantly immersing himself in various industry-related events and projects. The former Bravo TV star owns several other restaurants including Figs, Tuscany, Ça Va Brasserie and his dessert concept restaurant, Isabelle's CurlyCakes. English continues to make himself a household name with an eponymous cookware line, several best-selling cookbooks and regular appearances on the Food Network and at international food festivals.
The sumptuous dining experience at Olives Mexico City features tastes from a variety Mediterranean cultures and includes Greek, Moroccan, Lebanese, Israeli, French, Tunisian and Egyptian influences. The menu will change with each season, ensuring guests will enjoy the freshest ingredients at their peak. Patrons will have many choices of seafood and meats, as well as different options for flat breads, savory vegetarian and gluten-free dishes, and a delectable selection of desserts including English's signature banana crème brulee and vanilla souffle. As in his other locations, Olives Mexico City will feature an extensive selection of local and international wines in every price range.
Olives Mexico City features a unique design created by international architect Francois Frossard, whose other notable works include The Bellagio in Las Vegas and Prive Nightclub in Miami Beach. Providing a comfortable and friendly setting with modern details, Olives Mexico City showcases unique recycled hardwood flooring that contrasts with the interior's elegant granite and marble, and a hand-painted, 1950s-inspired floor that invites guests to enjoy the restaurant's distinct atmosphere and cuisine.
Olives Mexico City will run under the culinary direction of Executive Chef Jaime C. Mendoza, who was also the chef in charge of the openings for the Olives restaurants in Las Vegas and New York. Originally from Durango, Mexico, Jaime will maintain the quality and reputation of the renowned Todd English chain in his native country.
"I often compare the kitchen to sports and compare the chef to a coach. There are a lot of similarities to it. I think Jaime will make an excellent 'coach' at Olives Mexico," says English. "Jaime understands the playing field, and his exceptional knowledge and creativity will blend easily with his understanding of the local culture. His great attention to detail and passion for his work will keep guests coming back to Olives Mexico as a favorite local dining destination."
Olives Mexico City will be among the many excellent dining options now available in the culturally diverse and exciting city. Visitors and locals alike will now be able to indulge in an extraordinary cuisine that continues to receive accolades from foodies around the world.
About Todd English
Todd English is a celebrity chef, restaurateur, author, entrepreneur, and television star based in Boston, Massachusetts and New York City. Chef and owner of Olives in Charlestown, Massachusetts since 1989, English has gone on to establish Olives as one of the most prestigious names in the nation by opening other locations around the world: Olives New York in the W Hotel in Union Square and Olives Las Vegas at the Bellagio Hotel in Las Vegas. A four-time James Beard Award winner and inductee into the James Beard Foundation's "Who's Who in Food and Beverage in America," English was also named one of "People Magazine's 50 Most Beautiful People." Todd has authored the critically acclaimed cookbooks, The Olives Table, The Figs Table, The Olives Dessert Table, and Cooking In Everyday English. In 2005 his line of cookware and lifestyle products, The Todd English Collection, debuted on HSN, breaking electronic retail records in the house ware category. Todd English Enterprises includes over twenty innovative restaurants spanning the country and abroad. Most recently, Todd opened his fifth location of his pizza restaurant Figs overseas in the Middle East at the 360 Mall in Kuwait. May 2012 revealed the highly anticipated renovation of English's flagship restaurants- Olives Boston and Olives New York. Both restaurants just reopened with fresh new interior designs and menu offerings to complement English's signature Olives classics. 2010 brought the opening of two new restaurants in New York City, his European-inspired Todd English Food Hall at the iconic Plaza Hotel, as well as his French-inspired Brasserie Ça Va, located in the heart of the theater district. Also that year, English opened his first pub concept - Todd English P.U.B. at Las Vegas' CityCenter. For more information on chef Todd English and his restaurants please visit our website at http://www.toddenglish.com. Facebook – http://www.facebook.com/ChefToddEnglish and on Twitter- @ChefToddEnglish