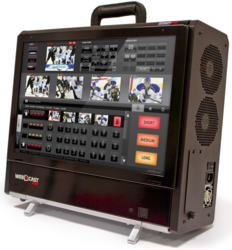 Bratislava, Slovakia / Nashua, NH (PRWEB) February 21, 2013
STREAMSTAR, manufacturer of live production systems for the broadband video industry, announced that it has partnered with NextComputing, manufacturer of high-performance portable and small form-factor servers and workstations, to provide integrated hardware platforms for its newest line of WEBCAST video production solutions. Partnering with NextComputing allows STREAMSTAR to create powerful, turnkey products which enable streaming video producers to easily and inexpensively deliver compelling, professional live video content over the web.
WEBCAST systems are complete live video production systems that revolutionize the concept of multi-camera switching and streaming, putting the user in full control of all actions with a simple touch screen interface. This eliminates the need for a hardware control surface and puts professional-looking live production within the reach of any user, even those with no broadcast experience. WEBCAST systems are the only all-in-one production products to offer a built-in instant replay and slow-motion feature, making them ideal for streaming of sporting events.
WEBCAST is available in two turnkey packages, both running exclusively on NextComputing hardware:
WEBCAST CASE is a portable, all-in-one, briefcase-sized system with an integrated 17-inch touch-screen monitor. This lightweight unit is ideal for remote events that need an easily transportable solution for multi-camera switching, encoding, and streaming.
WEBCAST 3U is a compact rack-mount webcasting system that connects to an external touch screen monitor. This small system installs in a standard 19" rack cabinet for stationary productions such as studios or stadiums. Its shallow, 20-inch deep chassis also makes it perfect for mobile rolling racks for remote productions which may need additional equipment in a rack-mount enclosure.
Key features of the WEBCAST series include:

5 video inputs (4 HD-SDI + 1 DVI)
2 layers of graphic overlays
Instant replays of variable duration
Variable frame rate slow motion
Unlimited media playback
Complex playlist creation and playback
PIP and split-screen templates
External desktop screen capture with keying for graphics and data input
Built-in H.264 encoder with direct streaming to popular platforms
Full audio mixer
HD recording to disk (DDR)
Output to a 2nd display for multiview grid monitoring
PAL and NTSC support
"We developed the WEBCAST product after many years of running our own production company and designing other video production tools," says Rado Toth, founder and CEO of STREAMSTAR. "WEBCAST is the culmination of this experience, and we are convinced it is the best solution for live webcasting. Choosing to partner with NextComputing ensures our customers are getting the highest-quality, reliable product that lives up to our standards. We are pleased to be working with them and hope it will continue to be successful for many years to come."
"NextComputing has a strong history of providing high-performance portable and compact computers to software developers and OEMs who are looking to create complete solutions while also reducing the time and cost to introduce new technology to their respective markets," says Bob Labadini, President and CTO of NextComputing. "Our relationship with STREAMSTAR is a perfect match; our unique products and manufacturing services help them to focus on their goal of revolutionizing the webcasting industry with their disruptive technology. We are very excited to support them in this endeavor."
About STREAMSTAR
STREAMSTAR offers technology solutions and products for the streaming industry. Dedicated to innovation, STREAMSTAR delivers professional tools for the new generation of media producers. Visit http://www.streamstar.com for more information.
About NextComputing
NextComputing is a US-based manufacturer of high-performance computing platforms, with solutions that feature enterprise-class workstation and server architecture in the smallest and lightest systems available. Visit http://www.nextcomputing.com for more information.
For STREAMSTAR:
Rado Toth, CEO
+421 911 666 222
toth (at) streamstar (dot) com
Stano Scepan, CMO
+421 917 834 470
scepan (at) streamstar (dot) com
For NextComputing:
Aaron Sherman, Marketing Director
+1.603.459.2462
asherman (at) nextcomputing (dot) com