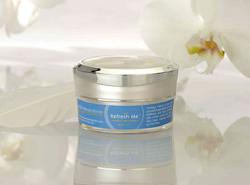 Vitamin K helps reduce dark circles under the eyes.
Palm Beach, Fla. (PRWEB) February 25, 2013
Anti-aging skincare product manufacturer Smooth Skin Systems now offers the Refresh Me™ brand under eye cream with Vitamin K on its e-commerce website.
Refresh Me™ is formulated with Vitamin K, Arnica Montana, rice bran extract, and soy peptides. These ingredients help reduce the appearance of dark areas under the eyes that are caused by allergies or fatigue. Rice bran extract lightens darkened skin.
These factors not only cause under eye puffiness, but can also cause tiny capillaries to leak. The resulting pooling of blood under the thin skin below the eyes creates a shadow-like appearance or black rings.
Vitamin K is a safe, natural coagulant and is highly effective at preventing or minimizing leaking blood vessels. Arnica Montana helps lighten dark pigmentation and reduce swelling and puffiness; soy peptides help minimize fine lines and wrinkles.
"The ingredients in Refresh Me™ are scientifically selected to reduce and eliminate the dark circles that make us look older than we are," explained Gary Myers, president of Smooth Skin Systems. "Vitamin K is well suited to strengthen the tiny blood vessels that can leak and cause the dark circles we want to get rid of. We also added peptides to minimize fine lines and wrinkles."
Smooth Skin Systems manufactures and markets professional, medical grade, dermatologist-tested skin care products based on scientific research. All products are manufactured without harmful preservatives known as parabens and contain no sodium lauryl sulfate, formaldehyde, phthalates, or other potentially toxic ingredients. No products or ingredients are tested on animals.