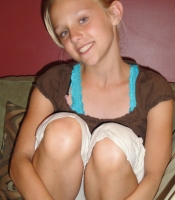 UnMentionables ultimate mission is to help people in need get clean, brand new undergarments
Columbus, Ohio (PRWEB) February 20, 2013
UnMentionables is a bath & body company created by Camryn Main, 13, of Marysville, Ohio.
UnMentionables is a socially aware company with all-natural personal care products. Their pleasing products contain no toxins and are made using all-natural scents.
The company is making a difference, giving back to the community by using 10% of their profits to buy undergarments that are then distributed to homeless shelters/clothing closets all around Ohio. "Most clothing closets are filled by donating used clothing items," Camryn emphasized. "Undergarments are usually in scarce supply, since these must be new in order to be supplied to those who need them. UnMentionables seeks to fill that void. UnMentionables ultimate mission is to help people in need get clean, brand new undergarments such as socks, underwear, boxers, and bras. When people donate clothes they don't often think about donating undergarments so that's where we come in."
Social responsibility runs in the family. Camryn's brother, Hart Main, started his Man-Cans soup can candle business when he was just 13 and has provided over 30,000 meals for the homeless through his endeavor.
Camryn believes that UnMentionables will be a huge success as well. "We're entering a huge marketplace filled with socially aware consumers," Camryn explained. "Our natural products meet a need in the personal care products space. They offer us the opportunity to make a difference in the lives of those who purchase them and for them to make a difference in the lives of the homeless."
For now, UnMentionables is being sold only at parties. The parties consist of guests sampling unscented products, perusing the line of available scents and then purchasing the finished products with their chosen scents added on the spot. "They walk out the door with their custom product in hand," Camryn beamed. "The ladies love it! Later we hope to expand our product line and open a web store for online purchasing."
Camryn is currently running a funding-raising campaign on CrowdfundingKids.com to acquire expansion funding for her business. To date, Crowdfunding Kids has helped her raise $600 and she has met her initial funding goal. She has 4 days remaining on her crowdfunding campaign.
A large portion of the startup costs for UnMentionables include the design and printing of unique packaging labels for each of the products, purchasing of raw materials for creating an inventory for parties, containers for each product, and design and printing of marketing material and order forms.
To help Camryn in her crowdfunding campaign or learn more about UnMentionables, visit http://www.CrowdfundingKids.com