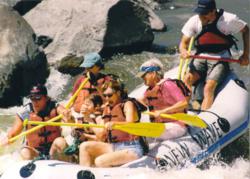 "We love it all--riding, fishing and now we can raft too, all for one price!" Ranch guest K. Mortham, Palmetto, FL
Antonito, CO (PRWEB) February 22, 2013
The Rainbow Trout Ranch has been in operation for over eighty years, the last twenty under the ownership of the Van Berkum family.
Summer guests are mainly families looking for a western vacation in the spectacular scenery of the Colorado Rocky Mountains.
The ranch rates are based on a per person/per week scale and have always included all meals, accommodations and ranch activities such as riding, fishing, kids and teen programs, trapshooting and evening entertainment. In the past, guests paid extra for the whitewater rafting trip on the Rio Grande River near Taos, NM.
With last year marking their twentieth year owning the ranch, Doug and Linda Van Berkum decided to include the whitewater rafting in the rates for 2013, making the rates all-inclusive.
Rafting gives guests an opportunity to rest muscles sore from riding, and to see the magnificent Rio Grande Gorge. Minimum ages vary at the discretion of the rafting company but as the summer progresses children as young as six are able to go.
With whitewater rafting now included in the rates, Rainbow Trout Ranch guests are able to enjoy a well-rounded dude ranch vacation.
About Rainbow Trout Ranch
Rainbow Trout Ranch is family owned dude ranch in excellent standing with both the state and national dude ranching associations, and exclusively five star reviews on Trip Advisor. The ranch has a long tradition of providing superb western hospitality for families, couples, groups and singles looking for an adventure vacation in the Rocky Mountains of southern Colorado. Inquiries can be made to 800.633.3397 and their website is shown below.