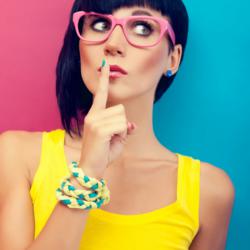 The first rule of Coupon Club is: You do not talk about Coupon Club!
Round Rock, Texas (PRWEB) February 20, 2013
EyeGlass People a leading provider of online prescription eyeglasses and contact lenses today announced the launch of its Coupon Club: online codes that will benefit consumers who want to save on high-quality, low-cost products.
"We're going to get the company to the next level by building on my family's many years of outstanding service and value," said Nick Sapia, General Manager of EyeGlass People.
The online coupons have proved popular with the company's thousands of  newsletter subscribers. "So now we've decided to make the coupons available to the general public," said Sapia.
The only catch is that consumers first have to find the Secret Coupon Page at http://eyeglasspeople.com/coupon-code?___store=default There they will find all the latest coupons along with instruction: "The first rule of Coupon Club: You do not talk about Coupon Club."  (Except with all your friends and relatives if you want them to get the same great savings.)
Current coupon codes include Friendsandfamily (valid for a 15% bonus discount) and Save 50 (valid for a $50 discount on orders over $300.)
Sapia says some people are still reluctant to have prescriptions filled online, even though EyeGlass People offers pre-coupon discounts of 50% to 70% over what they'd pay at an eyewear store or the doctor's office.
Others are puzzled by the whole concept of getting prescriptions filled online.
They have concerns about quality, accuracy and speed.
"All our work is verified by Texas-licensed opticians and made in a state-of-the-art laboratory. Top quality material is used and rigorous quality standards are in place. All the work is fully guaranteed," said Sapia.
Customers can send in their existing glasses to have their prescription duplicated. Or they can send in a new prescription. Eyeglass People can work with new or existing frames.
Last month, EyeGlass People upped the game, with a bonus discount and two new services:

Two Way Shipping: When customers order replacements lenses from Eyeglass People, the company will now email them a label that entitles them to free postage when they mail in their glasses. Customers can just print out the label, put it on any box, and put it in their mailbox. No more trips to the post office.
At Home Try-On: Customers can now try on a few pairs of glasses in the comfort of their own homes. The At Home Try-On service will send send customers up to 5 frames to try on for a week. There is no charge for this service.
There remain many misconceptions about prescription eyeglasses. One is that you have to buy new frames when your prescription is updated. Not so, says Sapia.
"We recently received a great thank you email from a customer we were able to help. His local shop refused to place new lenses in old frames without ridiculous charges. The customer suspected the shop wanted to sell him new frames. But we put new lenses in his old frames, something we do every day. It's just one of the many services we perform that saves our customers a ton of money."
EyeGlass People began as an optical lab and expanded into retail stores before launching its online business in 2004.
"EyeGlass People is a family-run company started by my Dad years ago. We both believe in old-fashioned service and giving back to the community. We're proud to support the Lion's Club Vision program," Sapia wrote  a recent newsletter to customers.
"Think of the coupons as a gift from our family to yours," said Sapia.