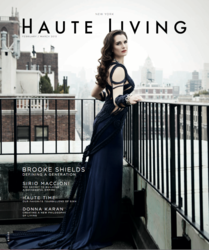 Now that I've moved downtown, I've become one of those converts. I feel like I need to put on a different wardrobe when I come uptown. —Brooke Shields
New York, NY (PRWEB) February 20, 2013
In the new issue of Haute Living New York, model and actress Brooke Shields opens up about her childhood, her marriage to writer/producer Chris Henchy and her enviable four-decade career.
After breaking into the film industry at the tender at of 12 playing a child prostitute in Louis Malle's Pretty Baby, Shields went on to star in the 1981 smash Blue Lagoon. "I think that the reason why I was unfazed was because there was an innocence to the characters," she explains. "In Pretty Baby the director didn't want a little Lolita, he wanted an innocent kid and he got that."
By the age of 16, Shields had become one of the most recognizable faces in the industry, and everyone, from Hollywood producers to New York social climbers wanted a piece. "I would get invited to Studio 54, but I'd leave before all the craziness and drugs happened. I never saw the bag passed around," she insists.
As Shields grew older, she began to gravitate away the provocative roles that made her a household name, and instead, focus on comedy. Today, Shields lives in the West Village with her husband Chris Henchy and their two daughters. "Now that I've moved downtown, I've become one of those converts. I feel like I need to put on a different wardrobe when I come uptown," she reveals.
Read the full interview in the February/March issue of Haute Living New York.
Also in this issue, legendary restaurateur Sirio Maccioni discusses running one of New York's most iconic eateries, Le Cirque. We've also rounded up the city's top nightclubs, power lunch spots and gourmet pizza joints.
About HauteLiving.com
The Haute Living website is the premier go-to for information on all things Haute around the world. With pages dedicated to 8 cosmopolitan cities, editors update readers on daily news, exclusive events, exciting openings and product releases. The Haute Living group also extends to niche luxury markets, with news about everything Haute, from yachts to interior design. The acclaimed Haute Time leads the group, providing luxury timepiece aficionados with product previews, exclusive interviews and more.
About the Haute Living Brand
Haute Living Magazine is a national luxury lifestyle magazine published in four markets—New York, Miami, Los Angeles, and San Francisco. Haute Living Magazine features the top entrepreneurs, businesspeople, and notables in each market. Haute Living Magazine also highlights the best in luxury consumer goods, culinary hot spots and events. Haute Living recently redesigned its website and re-launched its Haute Time and Haute 100 websites for state-of-the-art experiences.