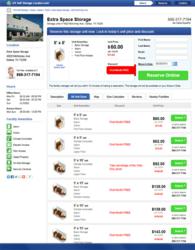 We realize that this is a difficult economy and how important it is to our users that they find the lowest price and best special on the unit they need, we provide this service to them
North Miami Beach, FL (PRWEB) February 21, 2013
USSelfStorageLocator.com announces a new service in it's powerful search engine, it has added a new technology to interface through many channels giving individual storage facilities the power to offer various specials on different units at their facilities, when ever they choose. Individual unit specials are now pulled from the facility's property management system (PMS), extensible markup language (XML), and Application programing interface (API) feeds. It used to be that self storage facilities would offer the same special for every unit in their facility, this is no longer the case.
Storage operators offer a voluminous of specials, first month free, $1 dollar the first month, 50% off the first month, free truck rental with move in, truck rental and many others. Operators choose the special they want to apply to any particular unit. If they choose not to run a particular special and offer a special web only rate as a special on a particular unit, they could do that as well.
The self storage online shopper is looking for location, price and special. After they have narrowed down the facilities in the area they wish to store their personal belongings, they will compare the price and special on that unit, before renting that unit. Although location, price and specials are imperative, there are additional amenities that shoppers take into consideration as well; video surveillance, keypad entrance, gated facility, well lit facility, cleanliness, moving and packing supplies, free use of dollies and hand carts, etc.
The days of shopping for self storage and booking a self storage unit online, is at the forefront of the storage industry. USSelfStorageLocator's platform and advanced technology supplies customers with all the information they need to rent a self storage unit online.
"We realize that this is a difficult economy and how important it is to our users that they find the lowest price and best special on the unit they need, we provide this service to them" says Victor Dante, CEO.
About USSelfStorageLocator.com - USSelfStorageLocator.com is the most prominent self storage lead generator in the industry. Consumers are able to locate, compare and reserve a self storage unit online. USSelfStorageLocator.com features software integrations with all major property management systems, and the ability to pull data and push reservations in real time. USSelfStorageLocator.com's team is comprised of self storage and technology professionals, and is headquartered in North Miami Beach, Florida, for more information you can contact them at 888-222-0225.