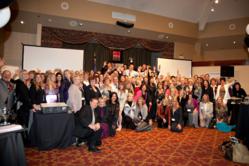 A Real Living Lifestyles agent expressed, "Loved the event overall. It was great to rub elbows with my peers and get some great new tech ideas for 2013. Gotta love Steve's enthusiasm too."
San Diego, CA (PRWEB) February 20, 2013
Real Living Lifestyles hosted their annual Real Estate Symposim, New Year, New You on January 31, 2013 at the Doubletree by Hilton Golf Resort in Rancho Penasquitos. Real Living brought in top business professionals who demonstrated how today's market is more efficient and high tech than ever before.
President & CEO of Real Living Lifestyles, Steve Rodgers revealed to everyone the remarkable numbers for 2012 and how much the real estate market has changed since the 2000 era. He showed Real Living's huge jump on their competition from sales numbers to client reviews and spoke about the company's plans to continue growing.
Guest speakers Chris Smith, Chief Evangelist for Inman News and Jimmy Mackin, real estate social media experts, got everyone's attention when they explained how real estate agents can use technology to maximize their marketing efforts. Technology can sometimes be a source of frustration, but Chris and Jimmy demonstrated how technology can help an agent accomplish many of your daily tasks with ease. Agents in the room were excited about going back to their offices and making an effort to update their marketing efforts. Jimmy commended the agents in the room, calling them, "A high energy group that's dedicated to staying competitive through collaboration and a commitment to learning."
Megan Willis, Marketing and Creative Manager for Real Living Lifestyles kicked off the afternoon session with a marketing update that revealed the brokerage's plans to excel in 2013. Among the highlights of her presentation were the company's featured listing status with Zillow, the unveiling of a new market reports program, and new commercial airing on U-T TV featuring Steve Rodgers explaining the concept of a "lifestyle brand." Also worth noting was the announcement of Real Living Lifestyles customer service satisfaction rating of 96% - a result of a third party, consumer survey sent to over 500 clients in 2012.
Bill Walsh, CEO of Powerteam International, closed the day with a motivational session. Bill has the ability to encourage entrepreneurs and business owners to be successful in their endeavors. He enthralled the audience with his straightforward approach to going after their goals without fear and doubt. His bold statement, "a goal without a deadline means nothing," resonated with the entire audience and encouraged them to get serious about turning dreams into realities.
The symposium also featured an array of breakout sessions with local experts presenting to small groups on legal updates, short sales, iPads, mortgage tools, business by referrals and online leads. Samuel Scott Financial Group, Lotus Realty and Zillow were a few of the breakout session sponsors.
The event was a success and agents who attended left with solid tips to make their business better and more efficient in 2013. A Real Living Lifestyles agent expressed, "Loved the event overall. It was great to rub elbows with my peers and get some great new tech ideas for 2013. Gotta love Steve's enthusiasm too."
What an exciting year to be involved with Real Living Lifestyles.