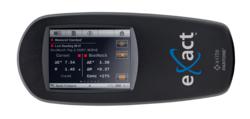 eXact can be customized for individual users, including press operators and operations managers, so they have instant access to the tools they require.
Bryan, OH (PRWEB) February 22, 2013
Anderson & Vreeland, Inc., leading manufacturer and distributor of flexographic plate processing equipment and materials, today announced it will host a free webinar on X-Rite eXact™, the next generation in portable color measurement instruments, on March 1st at 1:00 p.m. EST.
The fast-paced, 45-minute webinar will feature color experts from X-Rite who will discuss and demonstrate the new eXact™ spectrophotometer featuring color touch screen technology, a first in the industry, to measure and communicate color accurately with a single click. With decades of combined color measurement experience, these speakers will offer valuable insight into this future-generation color measure instrument, color measurement trends and technology.
In addition to using advanced measurement technology, the x-Rite eXact™ spectrophotometer is easy to learn, thanks to the intuitive software and touch-and-swipe technology.
"eXact™ can be customized for individual users, including press operators and operations managers, so they have instant access to the tools they require," said James Luttrell, Field Marketing Manager for X-Rite. "This improves productivity, eliminates the chance for human error, and delivers increased color accuracy," he added.
Online registration for the X-Rite eXact™ webinar is now available at: https://www4.gotomeeting.com/register/399286695
About Anderson & Vreeland, Inc.
Founded in 1961, Anderson & Vreeland has earned an international reputation as a leading supplier of flexo platemaking equipment and materials to the graphic arts industry. The company offers a "systems approach" to plate processing, with state-of-the-art equipment, materials and software specifically designed for flexo. A&V supports these products with 50 years of experience and a nationwide staff of technical sales representatives thoroughly knowledgeable about the fine points of flexo. The company's substantial flexo experience and technical support sets it apart from other prepress suppliers. This experience and support results in smoother and easier integration of technical advancements affecting flexo prepress. Further information is available on the web at http://www.AndersonVreeland.com.
About X-Rite
X-Rite, Incorporated is the global leader in color science and technology. The company, which now includes color industry leader Pantone LLC, develops, manufactures, markets and supports innovative color solutions through measurement systems, software, color standards and services. X-Rite's expertise in inspiring, selecting, measuring, formulating, communicating and matching color helps users get color right the first time and every time, which translates to better quality and reduced costs. X-Rite serves a range of industries, including printing, packaging, photography, graphic design, video, automotive, paints, plastics, textiles, dental and medical. For further information, please visit http://www.xrite.com.