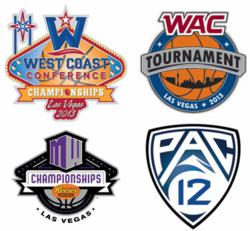 Las Vegas is One of the Best Golf Destinations in The Country

- David Feherty
Las Vegas, NV (PRWEB) February 21, 2013
Walters Golf in Las Vegas, NV announces an exclusive golf deal on three of Las Vegas' best courses for those that are coming to Las Vegas to enjoy the excitement of March Madness. If you have ever visited Las Vegas in March, you know that the weather is next to perfect and the excitement is never ending. This year, Walters Golf is creating its own sense of "Golf Madness" by partnering with the Pac-12, the WAC, the Mountain West and the West Coast Conference to offer their ticket holders exclusive discounts on golf at three of Las Vegas' best golf courses; Bali Hai Golf Club, Royal Links Golf Club and Desert Pines Golf Club. All courses are just minutes from the world-famous Las Vegas Strip and were voted three of the "Top 50 Golf Courses in America" by GolfWeek.
Visit Walters Golf for more information on Things To Do Around the NCAAB Men's Tournaments in Las Vegas.
About Walters Golf
Walters Golf, a division of The Walters Group, has become one of the fastest-growing and most widely respected golf companies in the country. From its first venture into the private country club market in 1995 to today's ownership and operation of top-quality, daily fee golf courses, Walters Golf continues their commitment to quality and profitability while offering customers excellent value.
Led by businessman and avid golfer Bill Walters, Walters Golf is known in the national golf industry for developing first-class golf facilities. According to Executive Golfer, Walters is "Nevada's leading golf entrepreneur" who "recognized the need for visitor and corporate friendly golf facilities and packages, and seized on the opportunity, investing millions in four magnificent properties."
In Las Vegas, the company owns and operates Royal Links Golf Club, Desert Pines Golf Club and Bali Hai Golf Club in addition to Las Vegas Golf Getaways, Las Vegas Preferred Tee Times and Cili Restaurant.