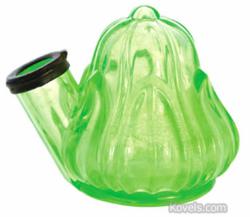 Cleveland, OH (PRWEB) February 20, 2013
Every month, the Kovels.com Top 20 list indicates the interests of collectors who visit the website. During January 2013, antique enthusiasts were busy researching the top 20 and more:
1. Bottle
2. Bavaria
3. Copeland Spode
4. Coca-Cola
5. Shawnee
6. Royal Bayreuth
7. Capo-Di-Monte
8. Fishing
9. Red Wing
10. Amber glass
11. Dresden
12. Hull
13. Royal Copley
14. Monmouth
15. Cookie Jars
16. Erphila
17. RS Germany
18. Rosenthal
19. Clocks
20. Crown Ducal
The online price guide at Kovels.com is searched for many reasons. Bottles top the list for January. Some serious bottle enthusiasts who bid at auctions and go to many shows want to learn the latest prices. Each year there are at least 16 online auctions devoted exclusively to bottles. The list of bottles for sale is available weeks before the auction and Kovels' price guide gives prices that show the trends. Going up in price—soda bottles, early bottles in rare colors. Going down—modern figural bottles and unmarked stoneware bottles.
American pottery is another of the top collecting interests in the United States but in Kovels' online price list, the category is divided among many makers. This month Red Wing, Hull, Monmouth and Shawnee are all in the top group. European pottery and porcelain are also of top interest. Bavaria, Copeland Spode, Royal Bayreuth, Capo-di-Monte, Dresden, Royal Copley, Erphila, RS Germany, Crown Ducal and Rosenthal all made it onto January's list.
A major auction of fishing collectibles has its catalog available online and collectors are searching Kovels for past prices of rare fishing lures and rods. Coca-Cola and clocks are other top collecting interests that are near the top.
One mystery is why Dresden is in the top 20. Perhaps it is the long-standing problem of vocabulary among collectors. Dresden is a city in Germany that has many ceramics factories. Meissen is probably the most famous maker that worked in Dresden. Collectors sometimes think the two words mean the same thing. In general, Meissen, a centuries old factory, made figurines and dishes that sell for high prices today. Dresden ceramics can be modern gift shop wares and sell for much lower prices. It is important to look up the prices to know what to pay.
Tip: Smart buyers or sellers check prices and dates to judge what is of recent interest, what is priced too high at the moment or what is a new bargain.
Collectors who search Kovels.com always want to know more—about descriptions, marks and prices. Kovels.com and "Kovels' Antiques and Collectibles Price Guide" list thousands of current prices in hundreds of categories that are carefully selected and edited.
About Kovels.com
Kovels.com, the online portal for Kovels' Antiques, provides collectors and researchers with up-to-date and accurate information on antiques and collectibles. Kovels' Antiques was founded in 1953 by Terry Kovel and her late husband, Ralph. Since then, Kovels' Antiques has continually published some of America's most popular books and articles about antiques, including the best-selling "Kovels' Antiques and Collectibles Price Guide," now in its 45th edition. The Kovels' website, online since 1998, and free weekly email, "Kovels Komments," give readers an expert's bird's-eye view of the market through news, auction reports, an online Price Guide, a Marks Dictionary, readers' questions with Kovels' answers, and much more.
Contact info:
Liz Lillis
216.752.2252
Pr(at)kovels(dot)com