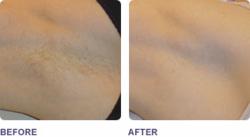 It's a remarkable piece of equipment and patients will find it much more comfortable to have a treatment. We see people getting ready for bathing suit weather already.
Las Vegas, Nevada (PRWEB) February 22, 2013
A virtually painless diode laser hair removal machine has been installed at Lakes Dermatology today in Las Vegas, Nevada.
Laser hair removal is the #1 non-invasive aesthetics treatment available today with an estimated growth rate of 18%. With nearly 3.1 million laser hair removal treatments performed in 2006 alone, hair removal is one of the most desired treatments in cosmetic dermatology practices.. While there are many methods to eliminate unwanted hair, very few can eliminate hair regrowth while leaving the surrounding skin undamaged. And photoepilation is quickly becoming the most popular. Lasers and light sources use the principle of selective photothermolysis to eliminate hair and its potential regrowth without damaging the surrounding skin. During a laser hair removal treatment, light passes through the skin and is absorbed by the melanin in the hair shaft. This absorption raises the temperature of the hair follicle and thermally destroys the cells responsible for regrowth. The attributes of the light (wavelength, pulse duration and power) are chosen to ensure damage to these cells and not to the rest of the skin.
The Soprano®XLi, that was installed this morning at Lakes Dermatology, with its SHR mode solution enables their technicians to provide Alma's patient-friendly Pain-Free, Hair-Free hair removal procedures. SopranoXL uses 810-nm diode laser technology, the gold standard in laser hair removal since its introduction in 1998. Unlike earlier systems, however, SopranoXLi energy penetrates deep into the dermis (where the hair follicle is located) with high average power and a rapid 10 pulse-per-second repetition rate.
The unique pulse structure of SopranoXL incorporates two discrete pulses. The first is a preheated long pulse that safely heats the tissue; the second short pulse effectively destroys the hair follicle and its surrounding vasculature.
For more information about this product, call Lakes Dermatology 702-869-6667 in Las Vegas, Nevada.