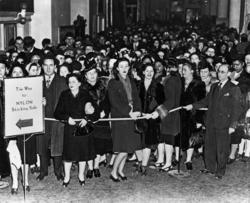 Wilmington, Delaware (PRWEB) February 25, 2013
April 2013 – Hagley Museum and Library invites families to a new event celebrating the invention of nylon, Fashion, Sports, and Fun with Nylon!, on Saturday, April 6, 10 a.m. to 3 p.m. The synthetics revolution began at DuPont and spread throughout the world. From fishing line and racquet sports to tooth brushes and tents, nylon, the first synthetic textile fiber, changed lives. Activities are free with museum admission. Use the main museum entrance off Route 141.
Kids and parents can discover the science behind nylon and learn about its many uses from textiles to toothbrushes! Families will delight in watching a hovercraft built using nylon, plywood, and a leaf blower move around. Visitors can try their hand at badminton with the Brandywine Badminton Club using nylon stringed racquets and shuttlecocks or play games with a giant parachute. The Boy Scouts of America Troop 601 will demonstrate nylon at work in knot-tying and camping. Families can learn about sailing and admire a nylon spinnaker at the New Castle Sailing Club demonstration. The University of Delaware Department of Fashion and Apparel Studies will have a display of fashion before and after nylon. Visitors can see a lab demonstration by Delaware Academy of Chemical Sciences. Additional activities include flying kites, playing cornhole toss, jumping rope, and watching fly fishing demonstrations.
Don your funkiest nylon outfit or wear all natural materials! These fashion-forward visitors will be entered into a drawing for a prize.
The Belin House Organic Café will be selling $1 hotdogs and $1 blueberry lemonades in addition to their regular menu. Visitors will receive a 10% discount at the Hagley Store.
This family program celebrates the opening of Hagley's latest exhibit in honor of the 75th anniversary of nylon, "Fashion Meets Science: Introducing Nylon." Seventy-five years ago on October 27, 1938, a brand new material named nylon was announced to the public. Created in DuPont Company's labs, nylon replaced silk in the ladies hosiery industry. Nylon was so popular that its early sales created near riots because demand was so high. Hagley's exhibit will discuss the early development of nylon and its impact on the fashion industry. The exhibit is sponsored, in part, by W. L. Gore & Associates, Inc., and Lyons Companies.
Hagley thanks our community partners for their help: Boy Scouts of America Troop 601, Brandywine Badminton Club, Delaware Academy of Chemical Sciences, New Castle Sailing Club, University of Delaware Department of Fashion and Apparel Studies.
Hagley Museum and Library collects, preserves, and interprets the unfolding history of American enterprise. The museum is located on Route 141 in Wilmington, Delaware. Admission to the entire 235-acre museum is $14 for adults, $10 for students and senior citizens, $5 for children six to fourteen, and free for members and children five and under. Call (302) 658-2400 weekdays for more information or visit http://www.hagley.org.
###