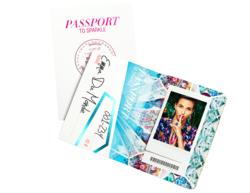 "RO New York helped us create an integrated program by developing content and design for use in-store as well as online. Their contribution brings the campaign to life with strong storytelling." - Swarovski
NEW YORK (PRWEB) February 26, 2013
This February, RO NEW YORK launched Swarovski's "Passport to Sparkle," a year-long integrated marketing program seamlessly bridging the online and offline customer experiences.
"Passport to Sparkle" represents Swarovski's foray into this type of program fusing many marketing channels into a single, extended campaign.
"Swarovski's Passport to Sparkle program is a multi-faceted campaign, rewarding loyalty from our customers, as well as building relationships in a compelling, new way," says Jennifer Hinkle, director of communications for Swarovski North America Limited's consumer goods business. "RO New York helped us create an integrated program by developing content and design for use in-store as well as online. Their contribution brings the campaign to life with strong storytelling."
"Being a multi-faceted agency we have always worked on projects in many categories, but this is the first time we are developing a campaign that links three categories together: in-store, digital, and collateral," says RO NEW YORK Founder Rony Zeidan. "Social media has been deeply integrated in order to truly give 'Passport to Sparkle' an omni-channel presence."
The "Passport to Sparkle" campaign was devised to reward the loyalty of fashion customers and encourage them to engage deeply with the brand through the micro-site PassportToSparkle.com, social media, and in-store visits.
Customers can obtain and register their passports—designed, produced and distributed by RO NEW YORK —at any Swarovski boutique to begin their journey. Pre-registered passports were sent to 4,000 Swarovski VIPs and 50,000 passports will be distributed in Swarovski boutiques.
"Passport to Sparkle is a complex system that's inspired by the gaming category, yet, for the customer, it is practical, simple, and not overwhelming," says Zeidan.
After obtaining their passport, participants can receive up to 34 unique stamps, custom-created by RO NEW YORK, by visiting Swarovski boutiques to earn gifts and be entered into drawings for prizes. Participating Swarovski boutiques are easy to identify via their unique window displays crafted by RO NEW YORK. Collecting six of the unique stamps from Swarovski stores will earn passport-holders a custom luggage tag and 10 unique stamps will be rewarded with Jet Setter Level Two status and a crystallized passport holder. Level Two makes customers eligible for grand prize drawings like a trip to Rio de Janeiro.
The "Passport to Sparkle" in-store experience is complemented by a robust online program, which has its home on Swarovski micro-site PassportToSparkle.com. RO NEW YORK produced the micro-site from concept to completion, including layout design, html responsive design, graphic design, and coding. On the micro-site, fictional model and photographer Emma du Monde chronicles her year-long journey to a new destination each month with weekly blog posts.
"Who doesn't want to dream?" asks Zeidan. "The micro-site we designed and coded in a mere three weeks is a bold visual experience that builds desire for both the brand, its products, and travel to tropical destinations."
The entire campaign is anchored by a RO NEW YORK-helmed social media program, including Twitter, Facebook, and Pinterest. Every month RO NEW YORK will launch a social media push based on a new destination, complemented by RO NEW YORK-designed and co-written postings, and accompanied with in-store posters, skinny display and merchandising presentations.Therefore, customers constantly have a reason to visit PassportToSparkle.com, the social media pages and ultimately, to visit a store, participate in the program, and purchase product.
About RO NEW YORK
RO NEW YORK's custom one-on-one approach to brand development delivers individualized service, and includes all aspects of creative direction, advertising, web design and development, package design, editorial, and merchandising. Best known for the "Big Pony" launch for Ralph Lauren Fragrance, they also count brands such as Chopard, Ralph Lauren, Girard-Perregaux, Joseph Abboud, Georges Hobeika, Unilever, Madonna Truth or Dare Fragrance for Coty, Amore Pacific, Napoleon Perdis, St. Tropez, and One Hope among their esteemed clients and collaborators.
Prior to founding RO NEW YORK, Zeidan was the VP Global Creative Director for Ralph Lauren Fragrances and established himself as a creative force with roles at Kraftworks, LVMH, and Donna Karan. Today, he also serves as an Editorial Contributor with the Luxury Society.