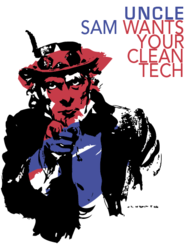 We've never been asked to be efficient. We've been asked to be effective. Now we are being asked to be both. Effective in combat, and efficient in power and water.
New York, New York. (PRWEB) February 27, 2013
The American military is researching and investing in clean technologies to ensure the safety of personnel in forward and overseas military bases, according to an article in The Green Economy's newest issue.
The Department of Defense is looking for more companies with quick turnaround time to increase the military's energy savings and efficiency.
"Clean technology is important for the safety of convoys as well as lightening the 105-150 pounds of communications equipment soldiers carry," said Colonel Peter Newell, Director of the Army's Rapid Equipping Force.
Colonel Newell and his aide, William Garland, are looking for innovative companies to take on multi-million dollar projects and streamline the process from innovation to implementation. By inviting folks from all sides — operations, budget, procurement, and training — into the conversation, Colonel Newell is shortening the information pipeline between requirements in the theatre to the decision makers at DOD.
Johnson Controls is one of those companies implementing green innovations to both Twenty-Nine Palms Marine Air Ground Task Force Training Command in California and the Pentagon. Such changes proved their worth during the 2001 attack. Even while the Pentagon burned, operations were successfully rerouted to continue operations.
"We've never been asked to be efficient. We've been asked to be effective," Garland said. "Now we are being asked to be both. Effective in combat, and efficient in power and water."