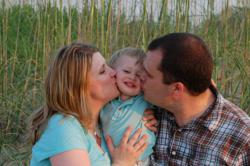 We were deeply moved that complete strangers cared enough about our struggle with infertility and our desire to become parents to gift us with a grant for IVF. Events like this funded our grant and helped us overcome infertility.
Villanova, Pennsylvania (PRWEB) February 22, 2013
Tinina Q Cade Foundation (Cade Foundation) will hold the Pennsylvania Dancing for the Family celebration and fundraiser on Saturday March 9 from 5:30p.m. to 8 p.m. in Villanova, Pennsylvania. Hosted by Philadelphia-based fertility clinic RMA of Philadelphia, the event will include Latin dance instruction, an upscale silent auction, Latin inspired cuisine and an elegant evening at the Radnor Valley Country Club.
Cade Foundation CEO, Dr Camille Hammond, shared "We are thrilled about coming to Pennsylvania to share hope (and to have fun dancing) and are very excited about having RMA of Philadelphia host the event. Cade Foundation has already funded 8 Pennsylvania families with grants of up to $10,000 each and we would love to help even more with funds raised through this activity."
"I can't think of a nobler mission than helping people build a family," said Dr Jackie Gutmann of Reproductive Medicine Associates (RMA) of Philadelphia. "Cade's education and outreach programs and Family Building grants have helped many couples tackle infertility head on either through medical treatment or adoption, and we are honored to support that mission."
Tickets are $50 and include the chance to win the raffle for $10,000 in fertility treatment from RMA of Philadelphia. Platinum sponsors include Labcorp and Rosemont Pharmacy. Visit http://www.dancingforthefamily.com for tickets and additional information.