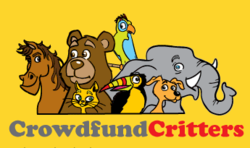 Conzortia is helping rescuers all across the country
Houston, Texas (PRWEB) February 21, 2013
Conzortia Business Funding, Inc. has launched CrowdfundCritters.com the world's first crowdfunding website dedicated to helping to provide funding for animal rescue efforts.
CrowdfundCritters.com allows animal rescues and shelters of all kinds to list their funding project needs for free on the site.
"It doesn't matter whether you're rescuing asses, horses, dogs or tigers, Crowdfund Critters is there to help", Robert Dobyns, CEO of Conzortia, stated.
"With the economy the way it has been the last couple of years, animal shelters are starved for resources and funding. It's a struggle to provide quality care for abused and neglected animals if you're on a shoestring budget. Conzortia is helping rescuers all across the country, by launching this crowdfunding platform specifically for animal rescue. It's our way of giving back."
Tens of thousands of animals are taken in by grassroots rescue efforts every year in the U.S., many of which sacrifice and struggle to pay the bills. Crowdfund Critters is designed to let others help share in the efforts. Rescue and shelter owners can list their fundraising project for free on the site and Conzortia charges no processing fees.
Additionally, the donation process is simple for those trying to help a rescue owner. They take about 2 minutes to create an account at CrowdfundCritters.com and select the project they would like to support, click the donate button.
Crowdfunding is becoming more and more common for bringing together communities to share in socially responsible ways.
"Crowdfunding is exactly what it says", Dobyns continues. "It is a crowd of concerned individuals coming together to achieve a common goal. In this case to help rescue the rescues. It's quick and easy and it helps make a difference in the lives of abandoned and abused animals and their
loving caregivers."
"A word to the wise...", Dobyns explains, "crowdfunding is about raising funding from your existing contacts via Twitter, LinkedIn, Facebook, email and other social media. So make certain to build up those relationships. As a general rule, there's no 'mystical crowd of angels' just waiting to fund your project."
To list your rescue project or to assist with funding needs, visit http://www.CrowdfundCritters.com