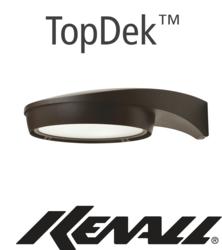 We are thrilled that TopDek was noted by the judges for its ability to control glare. We set that as our primary objective without sacraficing efficiency and longevity. -Jim Hawkins, President & CEO, Kenall Lighting
Gurnee, IL (PRWEB) February 21, 2013
Kenall Lighting, a leading provider of commercial lighting solutions for over 50 years, has been recognized as a winner in the Next Generation Luminaires™ (NGL) Outdoor Design Competition for its TopDek LED parking lot luminaire. The competition, sponsored by the U.S. Department of Energy (DOE), the Illuminating Engineering Society (IES) and the International Association of Lighting Designers, was launched in 2008 to promote excellence in the design of energy-efficient LED luminaires for general illumination in commercial lighting applications. The winning entries were announced at the 2013 Strategies in Light Conference, the world's largest educational and networking platform for the LED and lighting industry.
TopDek was selected as a recognized product within the parking lot category. The selection process included the judges' examination of lighted samples in their intended applications, as well as the evaluation of the luminaire's photometric analyses and other documentation. Application criteria—such as uniformity, mounting height and spacing—were also specified to provide additional guidance. "We are thrilled that TopDek was noted by the judges for its ability to control glare. We set that as our primary objective without sacrificing other requirements around efficiency and longevity," said Jim Hawkins, President and CEO of Kenall Lighting.
The NGL Competition is rooted in a desire to help lighting designers and specifiers source LED lighting products that meet strict performance and quality standards. Submitted products are judged on lighting quality—including color, illuminance, light distribution, and glare—appearance, serviceability, efficacy, value, dimming, and rated lifetime, as well as energy efficiency. "Recognized" winners are those products considered by the judges to be worthy of specification. Nate Heiking accepted the NGL Outdoor Design Award on Kenall's behalf.
***
About Kenall Manufacturing
Celebrating 50 years of lighting innovation, Kenall Lighting, located in Gurnee, IL, produces and supports high quality and durable lighting solutions for the most demanding environments.
Since its inception in 1963, Kenall has been known for superior quality, exceptional value, and durable solutions, and it is proud to provide sealed lighting for containment or clean spaces, security lighting for detention facilities, and specialized healthcare and transportation applications. Kenall products are manufactured in the USA and meet the guidelines established under the Buy American Act and the North American Free Trade Agreement. For additional information, visit http://www.kenall.com.
###