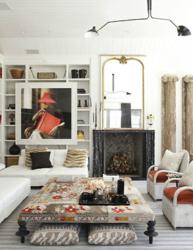 My home is my personality and I live with it
(PRWEB UK) 21 February 2013
The down turn in the global economy and substantial decline in household income since 2008, has resulted in a sluggish property market performance. Some financial experts view the current market stagnation in terms of 'correction' to the previous spiralling property prices. Meanwhile the more buoyant south east has witnessed many buyers and sellers delving in the same slow property market.
The increasing population in London, and the continuous update to the public and national transport, is fast extending the geographical map of most desirable areas and regions. 'Commuting from the leafy country and suburbs to central London is becoming much easier and more convenient' said Rozi the founder at Easy Relocation (exclusive).
The mainstream of buyers and sellers, perhaps in fewer numbers, including first time buyers, upsizers and downsizers are managing successful property transactions. The following popular trends can be helpful in both acquisition and sale of a property;
1 There is an increase in demand for living in the country with no more than 90 minutes commute time to London. Medium size communities with shops and facilities are most popular.
2 Shared ownership among families and close friends is increasing in numbers.
3 In London new communities are emerging around current and future property developments and provide opportunities for sound property investment.
4 Properties generating income from extra rooms are desirable.
5 Areas with good schools are popular property locations.
6 Wet rooms with under floor heating, or, bathrooms with flat panel televisions are in demand.
7 Kitchen countertops resilient to heat, scratch and microbial are very popular.
7 Today more people work from home and therefore garden view studies from a converted garage or a garden studio in a property are a fast selling point.
8 Interior neutral colour schemes with subtle dashes of colour are preferred to plain neutral.
9 Custom made shelving units and wall covering in masculine materials such as leather and velvet are fast becoming luxurious trends.
10 Glass heating in conservatories are increasing in numbers.
And the bonus trend is about the unmodernised properties, which still offer the best value in the property market, these properties can be updated in degrees and places where needed.
At Easy Relocation (exclusive) we wish you a very happy move.
Follow Easy Relocation on Twitter @EasyReloexcl and on Facebook at https://www.facebook.com/EasyRelocationExclusive
PO Box 66446
Maida Vale
London W9 4EJ
+44 (0) 20 7286 5249
http://www.easyrelocation.co.uk
Establish in May 2012, Easy Relocation (exclusive) offers affordable and comprehensive relocation assistance and home search to companies and individuals moving to the UK and moving to London. Unlike other UK estate agents, at Easy Relocation we hold no business commitments with third parties or letting agencies. This gives us flexibility to conduct personalised, attentive and wide ranging property searches tailored to each client's budget, needs and taste. To learn more about our services and to see what Easy Relocation (exclusive) can do for your business, visit http://www.easyrelocation.co.uk and join us on Facebook and Twitter for the latest news and tips on London relocation.