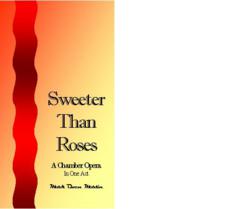 Why, why are all the muses Mute?
Alexandria, VA (PRWEB) February 22, 2013
Mark Owen Martin presents his new chamber opera "Sweeter Than Roses", March 22 and 23, 2013 at 8 pm in the Lab at Convergence. The theater is located at 1819 Quaker Lane in Alexandria and there is free parking available.
The opera's music is inspired by the English Baroque composer Henry Purcell and a few of his works are included in the score. The story revolves around a vocal coach, his deaf son and a promising student who is preparing for a career in opera performance. The score is both technically challenging and varied, requiring the singers to bridge styles of music over several centuries. The inclusion of a deaf key character adds both intrigue and irony to the story line.
The cast includes Elizabeth Winn (soprano), Michael Schlesinger (tenor), Jacob Wittenauer (mute), Daniel Daugherty-Weiss (baroque cello), and the composer Mark Owen Martin at the concert harp.
Tickets for all performances are $15 cash at the door. Seating is limited. Tickets can be reserved by going to http://www.MarkOHarps.com, clicking on TICKETS, and leaving a reply as instructed.