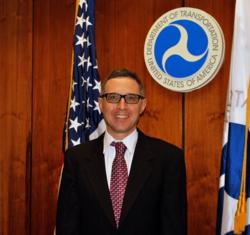 Mr. Green has spent more than two decades working on policies and programs involving transportation-related fuel use and emissions.
WARRENDALE, Pa. (PRWEB) February 22, 2013
Kevin Green, CAFE Program Office Chief of the U.S. Department of Transportation (DOT), was honored with the SAE International Barry D. McNutt Award for Excellence in Automotive Policy Analysis during the SAE International2013 Government/Industry Meeting, held in Washington, D.C.
Established in 2004, this award recognizes individuals who have made outstanding contributions to the development of improved federal automotive policy. Government policy is an increasingly important and complex influence on the ability of the mobility community to serve humanity. Through this award, SAE International recognizes the importance of sound policy analysis and inspires members of the mobility community in government, industry and elsewhere to strive for excellence.
Mr. Green has spent more than two decades working on policies and programs involving transportation-related fuel use and emissions. His work at EPA in the early 1990s underpinned the first comprehensive national assessment of emissions from non-road engines, and the first federal regulations to limit these emissions.
Since 1995, Mr. Green has worked at DOT's Volpe National Transportation Systems Center in Cambridge, Mass. During the late 1990s and early 2000s, he led DOT's evaluation of the infrastructure implications of the Partnership for a New Generation of Vehicles (PNGV), represented DOT at technical negotiations held under the United Nations Framework Convention on Climate Change (UNFCCC), and led DOT's first examinations of possible climate-related policies such as greenhouse gas emissions trading. Since 2001, he has been leading analytical work supporting the development of new DOT Corporate Average Fuel Economy standards. He led development of a new modeling system enabling systematic estimation of the costs, effects, and benefits of potential new CAFE standards; and played a central role in recommending options and informing decisions regarding these structural changes to the program's changes intended to more equitably balance compliance challenges among manufacturers, and to reduce the potential for CAFE standards to induce vehicle downsizing that could compromise highway safety. In addition, he led the analytical team supporting each subsequent round of standards, including those for model years 2017-2025.
Mr. Green holds bachelor's and master's degrees in Applied and Engineering Physics from Cornell University.
SAE International is a global association of more than 138,000 engineers and related technical experts in the aerospace, automotive and commercial-vehicle industries. SAE International's core competencies are life-long learning and voluntary consensus standards development. SAE International's charitable arm is the SAE Foundation, which supports many programs, including A World In Motion® and the Collegiate Design Series.