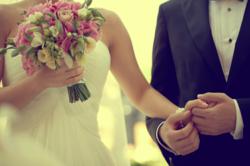 Newport Beach, CA (PRWEB) February 21, 2013
The vast amount of wedding dresses options available can make any bride's head spin which is why Wedding.com experts advise brides give themselves plenty of time to figure out exactly what they want.
Model Chrissy Teigen has been engaged to singer John Legend since December 2011 and has accumulated four wedding dresses since then. Her indecisiveness resulted in three more wedding dresses being ordered after her initial pick, with one of the four choices being a Monique Lhullier gown (http://www.huffingtonpost.com/2013/02/13/john-legend-wedding_n_2680214.html?utm_hp_ref=weddings&ir=Weddings). Experts at Wedding.com caution the average bride against choosing a wedding dress too quickly. The initial excitement of being engaged and starting the wedding planning process can easily lead to hasty wedding gown decisions and potentially costly regrets.
"Chrissy Teigen can afford to purchase four wedding dresses before deciding on the final one, but most brides cannot," says Brett Reynolds, CEO of Wedding.com. "We highly suggest brides begin looking for and trying on wedding dresses within their budget as soon as possible. Give yourself time to figure out your most favorite look before making such a large investment."
For more information about Wedding.com, please visit http://www.wedding.com.
About Wedding.com
Wedding.com is an innovative new website that connects engaged couples planning their wedding with wedding vendors looking to grow their business. Wedding.com contacts vendors for couples, giving them the power to compare and negotiate while ultimately saving time and money. With 12,000 couples and 22,000 vendors currently using the website, 105,000 proposals have already been sent since their inception. Vendors range in services from wedding planners, photographers, florists, and DJs to custom invitations, party favors, and much more. For additional information about the company and its services, please visit http://www.wedding.com.