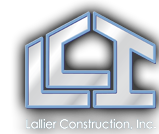 Denver, CO (PRWEB) February 22, 2013
This year, Lallier Construction Inc. (also known as LCI) is celebrating 20 years of business since its incorporation. Lallier offers a wide range of roofing solutions, all installed by personnel with extensive factory training. Lallier Construction is even a preferred contractor for Owens Corning.
Looking at this milestone, Mike Lallier said, "We are proud to have been around as long as we have. Roofing and the Insurance claim procedures have changed drastically in the past 20 years nationally and locally. Through all of the change we've been able to evolve and continue to provide an honest and trustworthy service to our customers in the Denver area."
Lallier Construction, Inc. maintains an "A" rating from the Better Business Bureau, partly because of its longevity, small number of complaints, and its dedication to ensuring satisfaction for every customer.
Lallier attributes much of the company's success to its status as a local business. Not only is it owned and operated by native Coloradoans, 80 percent of its workforce are Colorado natives, giving them an intuitive understanding of the weather demands on roofing in Colorado.
About Lallier Construction, Inc.
Lallier Construction is a Denver Roofing company founded in 1989 and incorporated in 1993. They offer a wide variety of roofing solutions, including residential roofing and commercial roofing solutions for sloped and low-slope roofs.