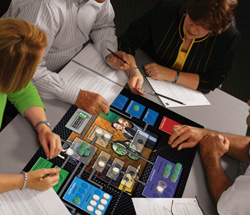 St. Petersburg (PRWEB) February 21, 2013
Successful project managers need strong business acumen and leadership skills. That's why the Project Management Institute is now awarding professional development units to current and aspiring project managers who participate in Zodiak®: The Game of Business Finance and Strategy and/or Impact5: The Business of Leadership Game®.
Both business acumen and leadership development programs now earn general-business PDUs toward certification from PMI, the industry's leading project management certifying association. Each completed program is worth eight units. PDUs are necessary for project management professionals to maintain their certification, or, in some cases, meet the education requirement for those applying for certification.
Zodiak and Impact5 are especially well-suited for anyone whose training time is limited. They are single-day simulations that accelerate the learning process and increase retention through energizing game situations, real-life scenarios and fast-paced participation:

Zodiak is a classroom-based game that builds business acumen, a crucial quality for project managers who deal with budgets, salaries and other capital considerations. Business acumen is a high-level understanding of an organization's financial and strategic drivers as well as insight into how individual decisions affect those drivers. With this knowledge, project managers can make profitable decisions, influence revenue generation and take actions that support an organization's strategies
Impact5 is a classroom-based game that provides a framework for leadership focus and decision making, a critical skillset for project managers who are responsible for team performance. Participants learn to balance short- and long-term priorities, address talent issues and ethical challenges, and support change, while building a new mindset for managers about the accountabilities that make a difference in financial, customer and organizational results.
Project managers around the world are already familiar with Paradigm Learning's award-winning simulation Countdown®: A Strategy Game for Project Teams, which enhances the knowledge and skills of project managers and project team leaders by exploring the concepts, tools and behaviors of effective project management. (Completion of Countdown also earns eight PDUs from PMI.)
Paradigm Learning works with Fortune 1000 organizations to link all three educational programs to their larger project management curriculum.
"Combined, the programs make up an excellent learning suite for anyone in project management, whether they're a veteran seeking a refresher or a newcomer to the discipline," said Robb Gomez, president of Paradigm Learning. "As companies rely more and more on project teams to get more work done, they need skilled managers who understand not only what's in front of them but also how to make the best decisions for the bottom line. By sharing and reinforcing the essentials of business and leadership, and putting that knowledge through the lens of project teamwork, we can help develop stronger project managers.
Paradigm Learning is a charter member of the Project Management Institute's Educational Provider Program, a collection of organizations approved by PMI to offer training (and issue credit for completion) in the field. To be part of that program, an organization must meet or exceed PMI's rigorous quality and effectiveness standards.
ABOUT PARADIGM LEARNING
Paradigm Learning, a leader in learning innovation, offers award-winning education and communications programs. The company's classroom-based and online business games, simulations and Discovery Maps® have been used by Fortune 1000 companies since 1994.
Paradigm Learning's core methodology is discovery learning, a powerful educational approach that engages employees, accelerates learning and increases retention. Fully customized, tailored and ready-to-go programs are available in such areas as business acumen, talent leadership, employee alignment, leadership accountability, team building, project management, organizational change and change management.
ABOUT PROJECT MANAGEMENT INSTITUTE
PMI is one of the world's largest not-for-profit membership associations for the project management profession, with more than 650,000 members and certification and credential holders in more than 185 countries. As a global thought leader and knowledge resource, PMI advances the profession through its global standards and credentials, collaborative chapters and virtual communities and academic research.