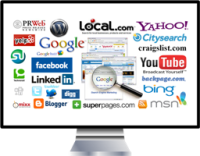 "Our goal is to help the real reputation of these outstanding dentists show through, minimizing the damage that false negative reviews can have for their practice."
Chicago IL (PRWEB) February 20, 2013
Studies have shown that 80 percent of consumers change their purchase decisions based on negative online reviews, but unfortunately, many good dentists' reputations are plagued by negative reviews left by angry patients or former employees.
LocalSearchForDentists.com is helping resolve complaints that can be detrimental to dental practices through their new revolutionary online reputation management system.
"Bad reviews happen to good dentists all the time, but sadly, it's the negative reviews the oftentimes receive the most attention and have the most impact on potential patients," said Graig Presti, CEO of LocalSearchForDentists.com. "Our goal is to help the real reputation of these outstanding dentists show through, minimizing the damage that false negative reviews can have for their practice."
The reputation management program offered by LocalSearchForDentists.com uses a combination of press releases, video testimonials and Google reviews, helping positive reviews left by happy patients become more visible in online searches for a particular dentist or dental office. The program utilizes only real reviews from actual patients to increase the credibility for local dentists.
Because negative reviews will mostly likely occur for every practice at some point if they haven't already, Presti has designed his reputation management program to be both proactive and reactive, making it useful for both dentists wanting to manage current negative reviews and those who want to take an approach to minimize the damage of future negative reviews.
Client reviews of LocalSearchForDentists.com's reputation management program have been outstanding.
"Before working with GraigPresti and his team we had zero internet presence with poor and inconsistent rankings on Google as well as the other search engines," said Richard B. Dunn DDS, PC. "Within a few short weeks of Graig working on this for our dental practice, we are already seeing a dramatic rise of new patients in our office from internet search activity."
Graig Presti has been a leading expert in the internet marketing industry for several years and is a frequent speaker at dental conferences, where he shares his expertise about reputation management and online marketing. He was recently featured as a Champion of Health, Wealth and Success in Newsweek Magazine.
For more information about LocalSearchForDentists.com's complaints management program for dentist, or to read more reviews of Graig Presti and the program, please visit http://www.LocalSearchForDentists.com and http://www.youtube.com/watch?v=Qqb8xYi6e3I