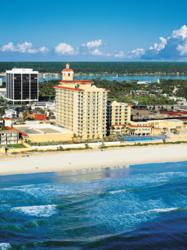 The Plaza Resort & Spa in Daytona Beach, FL, has begun renovations.
Daytona Beach, FL (PRWEB) February 21, 2013
The Plaza Resort & Spa in Daytona Beach Florida, the award winning Three Diamond hotel, has begun renovations. The Plaza's new management company, Boykin Hospitality Management, intends to continue to give guests the ultimate resort experience and beyond.
Construction includes newly poured concrete balconies allowing guests to take full advantage of the fabulous city and beach views. Construction is currently being done on the south side of the building while the newly poured balconies on the beach facing units set and cure.
The Plaza Resort & Spa is also making extensive upgrades to the interiors of each accommodation. "Guests will love the new shower curtains and bathroom vanities. While the old pedestal sinks were visually appealing, the new vanities will allow guests much more space for their toiletries," said Bob Van Bergen, General Manager of The Plaza Resort & Spa. "Other in-room renovations include upgraded bedding and 42" flat-screen televisions."
"We truly care about our guests and strive to give them the ultimate Daytona Beach vacation," said Mr. Van Bergen. "Many of these renovations are in direct response to our guests' feedback and will allow us to continue with our grand tradition of service and hospitality by providing them in-room comforts and luxury. We're also offering two 1-litre bottles of Fiji Water and two beverage coupons to every room upon check-in. Wifi has also been completely upgraded throughout the resort."
About Plaza Resort & Spa
The historic Plaza Resort & Spa has 323 oversized guest rooms offering amazing views of the Atlantic Ocean and the Halifax River. The resort also has 20 suites with private balconies, including two honeymoon suites. Guests at The Plaza are welcome to indulge in the many onsite amenities including: rejuvenating treatments at the onsite, full service Ocean Waters Spa; large beachfront pool with poolside bar & grill; dining at Magnolia's; as well as live music and drinks at the Veranda Lounge. The area's first oceanfront "Certified Green Lodging" hotel is ideal for Daytona Beach events and meetings with over 40,000 square feet of indoor and outdoor function space.
About Boykin Management Company
BMC, a leading hospitality management company located in Huntersville, North Carolina, is consistently recognized for excellence in delivering value-added lodging operations. Since 1958, BMC has been developing, managing, and operating hotels, resorts, condominium hotels, and Hilton, Starwood, and Intercontinental Hotel Group, among others. BMC has managed more than 20,000 rooms in 18 states since its inception.