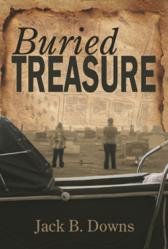 This book is for teens, adults and anyone who has ever known love, loss, heartbreak, or the feeling of not belonging.
Carroll County, Md. (PRWEB) February 27, 2013
In his debut fiction novel, "Buried Treasure," author Jack B. Downs plunges readers into a compelling and unexpected coming-of-age story riddled with mystery, deception and secrets. While readers await the official book release in March, they can get a glimpse into the story through the gripping "Buried Treasure" book trailer that will tantalize mystery lovers and excite the imagination.
In "Buried Treasure," the lives of James and Dylan are torn apart when their brother mysteriously disappears on a quiet street in 1954. In the wake of the crime, their family disintegrates. Abandoned by their parents, the young brothers are thrust into a world where they don't belong. Now they must find a way to survive.
Tormented as social outcasts and haunted by the past, James strikes out at the world, while Dylan finds safety in his brother's shadow. When they discover a terrible family secret, they face the most difficult decision of their lives. And one man's suicide could save them all.
"Buried Treasure" is a riveting story of the enduring scars left in the wake of a family's destruction and the unshakable bond of two brothers as they struggle to find their own identities and their place in the world. This unforgettable journey of self-discovery culminates in a twist that will stun the most avid mystery novel fans. "Buried Treasure" will captivate teen and adult readers alike and anyone who has ever known love, loss, heartbreak, or the feeling of not belonging.
About the "Buried Treasure" Book Trailer
The "Buried Treasure" book trailer brings the story and its characters to life with a gripping compilation of music, images, and titillating slivers of the plot.
About Jack B. Downs
Jack B. Downs was born in Washington, D.C. and grew up in Greenbelt, Md. He lives with his wife Jen and their three boys in Carroll County, Md. His writing draws on his eclectic and wide-ranging experiences growing up and living in diverse places such as Nova Scotia, southern Maryland, the Florida Keys, and Scottsdale, Ariz. In addition to writing mystery novels, Jack teaches at the University of Maryland University College and the University of Maryland Baltimore County. He is also the founder and moderator of the Eldersburg Novel and Short Story Critique Group in Carroll County, Md.
For more information on "Buried Treasure" or Jack B. Downs or for advance copy requests visit http://www.jackbdowns.com.
"Buried Treasure" will be published by Apprentice House March 2013. Paperback and eBook formats will be available for purchase at Barnesandnoble.com and Amazon.com.