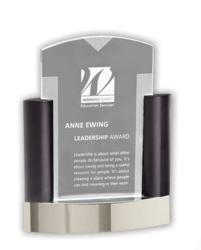 Our customers have responded very favorably. They like having these unique products to choose from.
Fort Lauderdale, FL (PRWEB) February 21, 2013
Continuing its campaign to challenge traditional industry thinking on corporate award design concepts, EDCO Awards & Specialties has unveiled 15 new designs in its Metal and Glass Awards and Art Glass Awards categories.
The new corporate award designs create a new "Best of Class" for glass awards combining materials like brass and metal with glass and new shapes and color combinations, some using hand-blown glass.
"The traditional thinking in our industry is that customers will buy whatever you are showing," said EDCO Vice President Mike Szczesny. "We challenge that thinking by continuing to expand the product lineup by filling out our corporate awards categories with more creative choices."
"Our customers have responded very favorably," he said. "They like having these unique products to choose from and the new pieces haven't cannibalized our more traditional products."
In the Metal and Glass Awards category, EDCO released five new corporate awards, including:

Neo Classic Metal & Glass Award: Measuring 8 inches high, this award combines an etched glass award with a silver-plated base that reflects light throughout the glass inlay;
Guiding Star Award: This limited edition sculpture features a unique metal star frame with a glass inlay;
Glass Diamond with Brushed Metal Base: Combines brushed aluminum with clear and blue glass for a designer look.
In the Art Glass Awards category, EDCO unveiled 10 new corporate awards, including:
Teamwork Art Glass Award: Measuring 13.5 inches high, this hand-blown color glass sculpture is elevated on a black base with a laser-etched plate.
Deco Glass Mosaic Peak: This corporate award features a beautifully stained-glass accent panel and a wide beveled edge. The 16-inch sculpture is set off by a black rod iron metal riser that cradles the glass award.
Excellence Art Glass Award: This 17-inch black glass sculpture with blue accents is elevated on a piano-finished base. This is the ideal choice for awarding the highest level of achievement.
"The art glass category has grown tremendously," Szczesny said. "Three years ago, we didn't offer any. Now we have 19. The more unique the piece, the better the response has been by customers who like seeing a theme like "Teamwork" or "Progress" carried through design."
EDCO offers more than 300 corporate award designs in five product segments: crystal awards, glass awards, acrylic awards, custom awards and plaques.
View the full lineup of EDCO Awards' glass awards. For personalized service in selecting your corporate awards, contact the company at 800-377-8646.