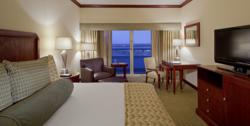 These enhancements, tailored to our female guests are the first step in a continual journey to evolve the guest experience as we listen in a more meaningful way
Orlando, FL (PRWEB) February 21, 2013
Guest request communication cards, a service providing frequently forgotten items, and new healthy, balanced menu offerings are a sampling of the new features available at Hyatt Regency Orlando International Airport as a result of its effort to listen more to guests and provide an experience tailored to their individual preferences.
Each of the new enhancements offered at Hyatt Regency Orlando International Airport are based on insights from female travelers collected as part of the most extensive guest listening exercise in Hyatt's history. The launch of these new amenities and services marks the first milestone in Hyatt's evolution of hospitality, which includes changing the conversation with hotel guests, unleashing a spirit of innovation, and perfecting new concepts through rigorous research and in-hotel testing.
Listening to Female Travelers
Hyatt began its efforts to evolve the guest experience with an intensive 18-month effort that included more than 40 facilitated group discussions around the world. Because women are such a critical segment of travelers, Hyatt focused its efforts on creating solutions to the issues that many women face on the road. While each feature was driven by insights from women travelers, Hyatt believes all guests can appreciate these new enhancements.
"Through open dialogue with our colleagues and feedback from guest surveys, we have been relentless in our pursuit to create a customized experience for every guest. This new research and our new way of listening to guests is leading to more impactful findings," said the Orlando airport hotel's General Manager, Pat Engfer. "These enhancements, tailored to our female guests are the first step in a continual journey to evolve the guest experience as we listen in a more meaningful way. Our employees have embraced it and are excited to be a part of this industry leading effort."
The research conducted by Hyatt showed that women want:

Assurances that their guest rooms have been cleaned and an ongoing dialogue with the hotel to provide feedback. All guests will now find communications cards that allow housekeepers to provide personal confirmation of a thoroughly cleaned room and open the door to two-way communication, encouraging guests to share additional needs during their stay.
To maintain momentum on the road and that they often do not want to ask for things. All business travelers forget things. Women, however, are often much more reluctant than men to seek assistance when they do, which can make something simple such as leaving a cell phone charger at home much more disruptive for female travelers. Hyatt Regency Orlando International Airport is introducing Hyatt Has It, a service for all guests that will offer essentials such as a phone charger, curling iron, steamer, yoga mat, makeup remover wipes and razor to keep, borrow or buy.
To maintain their health and well-being on the road. All guests will find new menu offerings that include fresh juices and smoothies, balanced portions and "create your own" options, all of which are grounded in Hyatt's industry-leading food and beverage philosophy, Food. Thoughtfully Sourced. Carefully Served.
Bath products that are of high quality. In response, Hyatt Regency Orlando International Airport will now be offering KenetMD Skin Care amenities to ensure that guests can maintain their well-being on the road.
For more information on new amenities and services at Hyatt Regency Orlando International Airport, and to learn more about Hyatt's new guest listening approach, visit http://www.hyatt.com/experience.
About Hyatt Regency Orlando International Airport
Hyatt Regency Orlando International Airport is an AAA 4-Diamond hotel with 445 rooms located in the main terminal of the Orlando International Airport, the third largest airport in the U.S. with more than 35 million travelers per year. It features upscale accommodations for business and leisure travelers, 42,000 square feet of meeting and exhibition space, two award-winning restaurants, and a new StayFit@Hyatt gym. Reservations may be made by calling 1-800-233-1234 or visiting http://www.orlandoairport.hyatt.com.