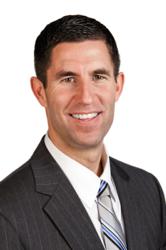 We're well positioned for explosive growth over the next few years.
Orem, UT (PRWEB) February 21, 2013
Blendtec, a leading manufacturer of high-end commercial and home blenders, today announced that chairman and chief executive officer (CEO) Tom Dickson has stepped down from his executive role within the company. Reed Beus, an experienced technology and private equity executive, has been appointed as the company's new chairman and CEO effective February 1, 2013.
Dickson, founder of the company and a lifelong inventor and engineer, will continue contributing to Blendtec's success as a member of the board of directors, focusing on what he is most passionate about—pioneering new products that make lives better.
Beus believes Blendtec has built a great foundation on its innovative designs and engineering efforts. He steps in at a time when the focus has shifted to global brand positioning and strategic growth.
"Blendtec is an incredibly successful company with industry-leading technology and dedicated, passionate people, and we're well positioned for explosive growth over the next few years," says Beus.
Beus brings years of executive leadership experience from a variety of industries, including software, Internet and social marketing, private equity, and sales. He has a proven track record of creating and sustaining exponential revenue growth due to his determination to focus on customer needs as well as an unwavering discipline to core values and principles.
Prior to joining Blendtec, Beus was the chairman and CEO of Enspark, a successful and fast-growing corporate e-learning company he founded in 2009 and whose clients include Motorola, 3M, Adobe, Coca-Cola and TD Ameritrade. He spent the 12 previous years as a managing director of a Utah private equity and management consulting firm where he trained and consulted for companies such as Nestle, ATK, Hill-Rom, NFL and TYCO.
In his new role at Blendtec, Beus will focus on accelerating growth and market share through strategic product development, proper execution, and sustaining a healthy corporate culture to encourage top-notch performance and engagement. He will also place a significant emphasis on enhancing the overall customer experience through pin-point execution, heightened discipline in core competencies, and improved two-way communication.
About Blendtec
Blendtec manufactures industry-leading commercial blenders and dispensers for the foodservice industry, as well as commercial-grade blenders and appliances for home use. The award-winning Will It Blend?® Internet video series (willitblend.com) demonstrates the amazing performance of Blendtec's blender technology and has raised awareness across the globe of the Blendtec brand. Sold in 90 countries, Blendtec products offer the total solution for any blending needs, both in home and business. For more information go to blendtec.com, or call Blendtec directly at 800-BLENDTEC.