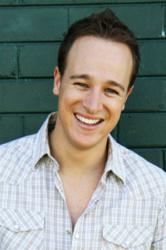 I love recording voice overs and I'm obsessed with travelling, when I see a cheap flight I grab it, take my equipment and go.
New York, NY (PRWEB) February 20, 2013
Kirwan has been one of the top Australian male voice over artists for over a decade recording for multinational clients such as McDonalds, Pizza Hut, HBO, MTV, Nickelodeon, Sony BMG and many more. He relocated to New York City in 2007 and continued to record for clients in Australia through ISDN, Skype and a program called Source Connect which utilizes fast internet, allowing for crystal clear audio to be heard by the client in real time.
After relocating to NYC he developed a passion for travel after seeing so many cheap flights across the USA and internationally.
He realized he could continue his dream job of voice over services no matter where he was in the world, as long as he had a fast internet connection. Clients didn't ever need to know where he was located. Most of the time they were shocked that the process was so simple with no complications.
To date Kirwan has recorded from Istanbul, Honolulu, Miami, San Juan, London, Paris, Madrid, Rome, Dallas, Chicago, Los Angeles, Milwaukee, New Orleans, Atlantic City, Reno, San Francisco, San Jose, Sacramento and Fort Lauderdale.
By the end of 2013 he hopes to record from at least another 40 cities around the globe.
He has set a challenge for himself to raise money along the way and donate to various New York City charities to help homeless veterans.
"I love recording voice overs and I'm obsessed with travelling, when I see a cheap flight I grab it, take my equipment and go. I'm very fortunate that I can see the world, do my dream job and also help out a charity." Kirwan said whilst unpacking from a trip to Madrid and Paris.
"I'm also starting a blog to show all the tricks I use to get hotels, flight, food and other things cheap. None of my friends can understand how I book $250 round trip flights to Europe. If you're creative and put the effort in I believe anyone can do what I'm doing."
Voice over artists are currently seeing a resurgence in their popularity with many iPad and other similar devices along with websites using professional voice talent to tout their products and services. Research shows that by using a professional voice on the home page of a website, sales can double and even quadruple.
Dave Kirwan is available to record professional voice overs for business phone greetings, on hold messages, internet videos, radio & television commercials, corporate narrations and any other use. He is available to be booked through EM Voices Australia in Sydney, CESD New York City or by contacting him directly via his website.