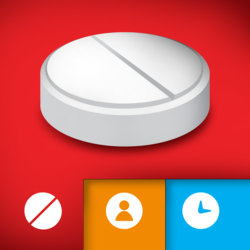 New York City, New York (PRWEB) February 21, 2013
Today, the Random House Publishing Group launched THE PILL BOOK ALL-IN-ONE APP. The app is now available for $3.99 in the iTunes® App Store℠ for iPhone®.
THE PILL BOOK ALL-IN-ONE APP (fully-tested for iOS 6 and iPhone® 5 screen-compatible) comes from the most-trusted consumer drug guide in the United States with over 20 million copies in print: The Pill Book by Harold M. Silverman, Ph.D. With this single app, users will be able to track medications for multiple family members, easily set up reminders, find in-depth and easy-to-understand prescription information, identify pills, and even quickly locate the closest pharmacy. THE PILL BOOK ALL-IN-ONE APP includes an extensive database with over 100,000 FDA-approved medications and 18,000+ drug images. It also offers invaluable prescribing information direct from The Pill Book for 1800 of the most commonly-prescribed drugs compiled by a team of eminent pharmacologists in concise, readable, easy-to-understand entries. These entries include possible side effects, cautions and warnings, drug interactions, and dosage information.
THE PILL BOOK ALL-IN-ONE APP features three main tabs: Pill Finder, My Cabinet, and Pharmacy. With the Pill Finder tab, users will be able to identify drugs by generic or brand name, NDC number, imprint, color, or shape. They can also use Siri voice recognition to search for medications. The My Cabinet tab allows users to track their own medications and those of other family members, set up reminders to take medication, as well as store their insurance, physician, and pharmacy contact information for easy access at any time. With the Pharmacy Finder, users can locate a local pharmacy and add the location to their profile for later reference.
About the Random House Publishing Group
The Random House Publishing Group is a division of Random House, the world's largest trade-book publisher, whose parent company is Bertelsmann AG.
The app is available on the iTunes App Store.
The media kit is in a Dropbox folder.