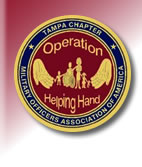 Operation Helping Hand recognizes the most important part of rehabilitation is having the love and support of family, retired Navy Captain and MOAA Board member Robert J. Silah. said.
Alexandria, VA (PRWEB) February 21, 2013
The Military Officers Association of America (MOAA) Tampa Chapter provides compassionate assistance to active duty service members injured in Iraq and Afghanistan. Through an organization called Operation Helping Hand (Op HH), their focus is to make things a little easier for patients being cared for at James A. Haley Hospital in Tampa, Fla., by reducing stress for them and their families.
Op HH was started by its current Chairman, retired Navy Captain and MOAA Board member Robert J. Silah. This special project of the MOAA Chapter is operated by retired military officers and volunteers who gladly donate their time without any compensation.
"Operation Helping Hand recognizes the most important part of rehabilitation is having the love and support of family," Silah said. "That's why our assistance ranges from roundtrip commercial air travel for immediate family members to visit and be with their injured loved ones to paying for rental cars, prepaid cell phones, comfort items and countless other helpful gestures."
For almost nine years, Op HH has helped close to 1,000 of our active duty wounded and more than 1,300 of their family members. More than $1 million in checks and cash has gone to the patients and families along with such in-kind support as monthly gift bags, food and restaurant coupons, welcome kits, various gift cards and a range of other materials and services. For those who can, Op HH conducts outings to area sporting events like the Tampa Bay Rays baseball team and to see the Tampa Bay Lightning hockey team play.
This mission has remained steady over the years and is growing. Since the start of the War on Terror, there has been a steady flow of wounded combat military getting treatment at Haley for their injuries. Many arrive in Tampa with debilitating wounds, including blindness, amputations, blast injuries, burns, and brain or spinal cord damage or a combination of these injuries referred to as Polytrauma.
Op HH holds monthly dinners at the Spinal Cord Injury Center honoring the active duty injured and wounded. It is a chance for the community to render the thanks of a grateful nation. Approximately 300 people attend these dinners to salute and applaud the warriors. There is great support from the Tampa community with many willing sponsors to underwrite the cost of the dinners.
Paying for all the assistance and support is not always easy.
"Thankfully, through modest fund-raising efforts Op HH has been and continues to be blessed with the generous contributions of individuals, corporations and associations," Silah said. "Many service organizations have stepped forward and presented checks to Op HH based on their own fund-raising campaigns. The many heartfelt thank you letters received from grateful patients and their families is the fuel that keeps Op HH going."
For more information about Op HH, please visit http://www.operationhelpinghandtampa.com.
# # #
About MOAA:
Military Officers Association of America (MOAA) is the nation's largest officers association with more than 380,000 members from every branch of service, including active duty, retired, National Guard, Reserve, and former officers and their families and survivors. MOAA is a nonprofit and politically nonpartisan organization and an influential force in promoting a strong national defense. MOAA represents the interests of service members and their families in every stage of their lives and careers, and for those who are not eligible to join MOAA, Voices for America's Troops is a nonprofit MOAA affiliate that supports a strong national defense. For more information, visit http://www.moaa.org.