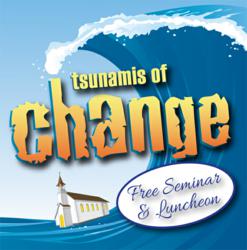 Successful churches are willing to do things that unsuccessful churches will not do. - Dan Cook, BGW Founder and architect
Ogden, UT (PRWEB) February 22, 2013
Building God's Way, a nation-wide church architect and builder network that provides a broad range of services to Christian ministries, will host free 1-day seminars in 11 cities this spring, with dates from March 19 through May 23. The seminar speaker panel will include ministry leaders and industry experts in the areas of facility design and construction, church growth strategies, funding, and worship technology. Each speaker works exclusively with churches and Christian schools and the team has helped hundreds of ministries across the country to reach their God-given vision.
The seminar will focus on strategies and solutions to address 3 areas of significant change facing ministries today.
DEMOGRAPHIC CHANGE - Seminar presenters will discuss the huge generational transition taking place today, including the retirement of the Baby Boomers and the rise of the Millennial generation. In addition, attendees will hear about innovative ideas to address the gender gap and racial segregation problems that exist in churches today. Pastor Terry Bates, author of the book "Positioning Your Church for Growth", will share proven strategies for breaking through growth barriers and maintaining a vibrant ministry through this change. Building God's Way founder and Architect, Dan Cook, will also share about church design strategies that are showing success in reaching millennials, engaging men and driving more cultural diversity in churches. Attendees will take part in live demonstrations of the latest audio, video, lighting and broadcast technology - key elements in making church more relevant and engaging for the next generation.
CULTURAL CHANGE - The panelists will share ideas about how churches can have a greater impact and cultural significance in their communities. A growing trend in many communities today is toward viewing churches not as an asset, but as a liability and a drain on resources. In many of these communities, churches have become irrelevant because they have not had any real impact. Seminar presenters will share some new trends and key cultural changes that every ministry should be aware of - and the danger in following the world's lead in responding to this change.
ECONOMIC CHANGE - Since the financial collapse of 2008-2009, most churches have experienced at least a 5 to 15 percent drop in giving, with some experiencing even more significant decreases. The most generous donors in churches today, the Baby Boomers, are retiring at a rate of about 10,000 a day. Their giving is predicted to decline by nearly 70% over the next 12-15 years. Based on current projections, it's doubtful that the next generation will continue to support giving at the same levels. In addition, the changing political and economic climate threatens to impact charitable giving and the tax benefits enjoyed by non-profits. Seminar panelists will share proven strategies that are showing success with vibrant and growing ministries to replace this lost revenue and sustain growth and expansion. Fundraising experts will also share how the Total Stewardship Approach can have a huge impact on the success of a capital campaign.
Attendees will learn how creative master planning and facility use can foster revenue growth and ministry sustainability. The presenters will also share about the unique Building God's Way method, a delivery model that is revolutionizing the way church and Christian school facilities are designed and built. With a foundation based on Biblical relationships, stewardship and outreach, this process has impacted hundreds of ministries across the country. Architects and construction experts will share how this approach significantly reduces costs and expands ministry opportunities during construction.
For more information on the seminar tour, including dates, locations and speakers, visit the BGW Seminar Registration page.
About Building God's Way (BGW) - BGW has become a recognized leader in ministry design and construction through its extensive experience in working exclusively with churches, Christian schools and colleges. Since 1998, BGW has worked with more than 600 ministries nationwide and has developed an unparalleled network of kingdom building services that includes c hurch design, church building, church growth coaching, vision casting, capital fundraising, non-profit development, financial solutions, worship technology, mobile solutions and more. For more information, visit http://www.bgwservices.com