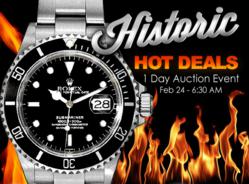 Tehachapi, CA (PRWEB) February 20, 2013
Government Auction's February 24, 2013 auction will feature a large collection of gold coins, luxurious handbags, jewelry and antiques in this weekend's auction event on the online auction site LiveAuctioneers.com. Bidding in this one day event will start at only $2 on most lots.
The auction house is offering a large selection of luxury goods for liquidation. A piece sure to be popular with the ladies is a 14 kt Gold 22.30CT Ruby and Diamond Ring. A large 21.56 CT oval shaped ruby is surrounded by 16 round genuine diamonds and 16 round rubies. The main stone is raspberry red with a quality set at "Very Good". Another hot lot for the ladies is a 14 kt Gold 15.49CT Natural Zoisite and Diamond Pendant. The main stone is a stunning green violet color surrounded by 114 round brilliant cut natural diamonds with a total weight of 1.48 ct. The 14kt gold chain is also included with the pendant. Zoisite is known for being an extremely strong gemstone and is a member of the Tanzanite family.
Rolex a name synonymous with precision and luxury is well represented in this auction with seven of the timepieces to be auctioned off. A specimen already garnering a number of bids is a Rolex Datejust Watch. This Oyster Perpetual watch is crafted in lavish stainless steel and is composed of silver sunray finish dial. The box and all original papers are included. Another fine piece offered in this category is Ladies Rolex President Watch. This piece is composed of 14kt gold with gold sundial and band. This watch also comes in the original box with papers of authenticity.
Offered for auction in the coin category is a highly sought after pieces for collectors and investors. Lot 25 is a 1909-D $5 U.S Indian Head Gold Coin. The 1909-D like most Denver mint gold coins is well struck and has a nice patina. What makes this coin unique is the design is incuse or sunken in. Designed by Bela Pratt the obverse features a proud Native American Indian with full feather war headdress and the American Eagle on the reverse. The piece is composed of 90% gold and 10% copper.
The Louis Vuitton handbags has become an increasing popular item for auction liquidation in Government Auction's listings. There are numerous styles offered in Saturday's auction. A standout piece is Louis Vuitton Lockit Handbag. The purse is mostly black with transparent black sidewalls and two black leather top handles. The classical LV logo is monogrammed throughout.
For antique collectors a unique item for auction is the 1890's Ithaca Calendar Clock. The antique is a fully restored wooden mantelpiece clock and features a separate face for days and months. the Ithaca Clock Company was located in Ithaca, New York, and originally focused on manufacturing clocks to the specifications of patents granted to Henry Horton. What makes these clocks so unique to collectors is that even though these came straight from the factory the clocks were specially made to order by the clients specifications.
Additional auction highlights include a Brass Model 130 NCR Cash Register, Gucci Make-up Bag, 5.00CT Princess Cut Diamond, 1873 $1 Liberty Head Gold Coin, and more.
To view this auction please click the link below
Fine Jewelry, Luxury Handbags and Elite Timepieces - Sunday, Feb 24, 2013 | 6:30 AM Pacific
http://www.liveauctioneers.com/catalog/37158_historic-auction-government-assets-sale/page1
For additional information on any lot in the sale, call Debbie on 661-823-1543 or e-mail info(at)governmentauction(dot)com.
About Government Auction
Government Auction was founded as a general resource to buying assets such as jewelry , gemstones, memorabilia, collectibles, art, prints, antiques, and vehicles throughout the United States. Most people don't realize there are hundreds of thousands of assets and valuables that are seized everyday and made available through various resources. Many of these confiscated assets are passed on to us for immediate liquidation. Some examples of how we acquire requisitioned objects are from bankruptcies, IRS, estate sales, trusts, and more.
Government Auction is the largest company of its kind and the only one in the United States that works closely with these agencies to acquire literally thousands of assets and confiscated goods, such as Ruby Gemstones, Sapphire Rings, and Men's President Rolex Watches, Mercedes Benz, and Gold Coins. In most cases we acquire these treasures at a fraction of their actual retail value. Once acquired these items are liquidated through the auction site. Clients are made up of just the everyday person who wants to buy a Diamond Bracelet, Pearl Strand Necklace, Sterling Silver Pink Sapphire Earrings, Oval Cut Emerald Gemstone Parcel, Remington Bronze Reissue at an unbeatable price.
All assets that we offer are normally at a 30% - 60% savings to the client. What this means is consumers are making a good investment immediately. By purchasing assets cheaply people can make a sizeable profit if they decide to resell it later on.
Government Auction is one of the most reputable jewelry and gem clearinghouse company in the U.S., with over 20 years of experience.