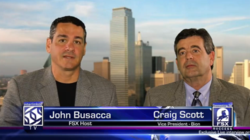 (PRWEB) February 21, 2013
During FSX's last Investment Conference held in Dallas, Texas, Craig Scott, CEOof Bion Environmental granted an exclusive interview for FSXInterlinkedTV, an on demand Web Channel dedicated to Entrepreneurs and Investors.
During this exclusive interview that is available only on FSXInterlinkedTV Scott stated that Bion has developed the only technology that solves the environmental problems with large scale livestock production. Scott explained that the biggest problem is excess nitrogen. 75% of the nitrogen that is spread on the fields for its fertilizer value gets into our water supply causing dead zones in the Gulf of Mexico and more. The EPA has now recognized excess nutrients as one of the largest environmental problems in the USA.
Bion Environmental Technologies is dedicated to providing sustainable environmental and business solutions to the livestock industry and investment returns to its shareholders. Bion has spent 20 years and $50 million developing a comprehensive solution to the environmental problems associated with large-scale livestock production: excess nutrients - nitrogen and phosphorus; ammonia, greenhouse and other gases; odors; pathogens; and residual antibiotics, hormones, pesticides and herbicides.
About Bion Environmental & InterlinkedTV
Bion's patented and proven technology platform largely eliminates the air and water pollution associated with livestock waste and simultaneously recovers significantly more renewable energy from the waste biomass than other technologies that seek to exploit this energy source. It is the ONLY technology that provides a comprehensive solution to the environmental impacts of livestock waste; it is now gaining acceptance by the US EPA and state regulatory agencies as an effective solution to one of the greatest and most immediate environmental problems in the US and world today. For more information visit http://www.biontech.com/
InterlinkedTV is an internet video production and distribution site dedicated to Entrepreneurs and Investors. We feature education, public and private companies, venture capital news, and investment events. This content is exclusive and cannot be found anywhere else. We give our members and viewers a unique chance to meet the CEOs and executives of high growth companies. For more information go to http://www.interlinkedTV.com