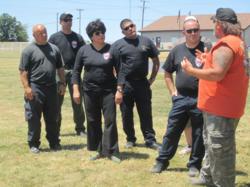 "If a dog never gets a bite in his career, we're happy. These dogs are primarily a deterrent. They're there to protect and to save lives." Kenny Licklider
Houston, Texas (PRWEB) February 22, 2013
K9s4COPs, a Houston-based non-profit foundation, will be featured this Friday on National Geographic WILD's new hit show Alpha Dogs.
The series is based at Vohne Liche Kennels in Denver, Indiana. Kenny Licklider, the head alpha dog himself, says, "there's no better protection than a well-trained dog."
The Friday episode will focus on K9s4COPs, a 501 (c)(3) non-profit started in 2010 by Houston social entrepreneur Kristi Schiller. The foundation provides highly trained and skilled K9s to law enforcement organizations and school districts around the nation. The group has gifted 33 K9s so far since gaining its non-profit status in March 2011 – across 14 agencies in four different states.
Liz Lara Carreno, executive director of K9s4COPs, traveled to Indiana for the filming in June 2012, along with four different greater Houston area agencies who were given K9s by the foundation – Aldine School District, Precinct 8 Constable's Office, Harris County Sheriff's Department and Madisonville Police Department.
During the episode, Sgt. Jeff Covington, a canine handler from Madisonville, Texas, visits Vohne Liche Kennels to get his new K9, which has been purchased by K9s4COPs.
But when the guys at VLK discover this dog must be able to work in the water, it's up to trainers Bobby and Luther to get the dog ready, or VLK may lose all of K9s4COPs' business. Meanwhile, the team works with Charlie, a police officer training to be a dog handler. Pleased with Charlie's progress during bite training, Kenny invites him to come along on a drug bust to gain some real-life experience.
VLK is the K9s4COPs' kennel of choice – the staff there has trained police and military service dogs for more than 5,000 law enforcement and government agencies, including the National Security Agency, Pentagon Police, U.S. State Department, all military branches, and more than 500 civilian and police agencies. From bounty hunters who need a little extra protection to executives across the world, Vohne Liche Kennels is in the business of serious self-defense.
"If a dog never gets a bite in his career, we're happy. These dogs are primarily a deterrent. They're there to protect and to save lives."
Today, at the 600-acre kennel in Indiana, Licklider is surrounded by his military and law-enforcement trained staff—a ragtag bunch of tattooed, motorcycle riding men: the perfect combination of Duck Dynasty and K-9 Cop. But don't let the long hair, big bellies, and rough exteriors fool you.
When a dog is matched to the right handler, Licklider says the combination is better than an alarm system or even a police officer for deterring crime. Plus, he says, "A dog would give its life up for you."
Because the stakes are so high, VLK works with dogs for 8-12 weeks before selling them to handlers.
Click on the link below to see a preview of the show featuring K9s4COPs, 'Busted':
http://channel.nationalgeographic.com/wild/alpha-dogs/videos/scared-of-water/
The show will air on NatGeo WILD on FEBRUARY 22 at 9 p.m. EST.
In other K9s4COPs news, take a look at this video of expertly trained K9s sweeping security checkpoints for the recent NBA All-Star Game here in Houston. K9s4COPs has had a tremendous local impact by donating 23 K9s in the greater Houston area in the last two years.
"We take care of our own first," says K9s4COPs executive director Liz Lara Carreno.[https://vimeo.com/59933827 __title__ ]