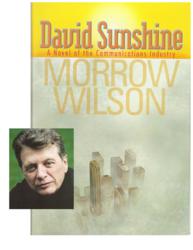 David Sunshine is dedicated "In loving memory of my beautiful wife, Rue McClanahan, who had her share of television success."
New York, NY (PRWEB) February 26, 2013
Morrow Wilson took his first job in television because he needed to support himself as a novelist. He began as the first associate producer of producer David Susskind's pioneering TV talk show. From there, he became an independent producer, a CBS Television production manager and finally Production Chief of CBS Cable, an arts and culture television network of real excellence.
In there somewhere he also became an award-winning actor (over a hundred New York City stage productions, six soaps, numerous TV and feature films, many commercials), a supper club singer (playing the Algonquin to friendly reviews), and a celebrated ad man (Director of Theatrical Advertising for J. Walter Thompson). "I'm either a Renaissance Man between Renaissances," says Morrow Wilson, "or maybe just a versatile guy. Necessity can be a mother."
In David Sunshine, he spells out in sometimes comic, sometimes heart-breaking, detail what it's like for an innocent country boy who comes to the big city with big ambitions.
"My first piece of career advice is that no two stories are the same," says Morrow Wilson."And this one is absolutely cock-eyed."
It's fiction – the adventures and misadventures of a TV novice -- that has put Morrow Wilson on the talk show circuit from the get-go.
"David Sunshine has the power to be serious literature that's funny at the same time," says Morrow Wilson. "The book follows in the footsteps of Dickens and Mark Twain with out-sized characters that make you laugh out loud or scare the hell out of you. One reader recently said that David Sunshine 'seems to feature more revelations than any nonfiction book could.'"
David Sunshine is dedicated "In loving memory of my beautiful wife, Rue McClanahan, who had her share of television success."
http://davidsunshinethenewnovel.com
regaleaglesnest(at)live(dot)com