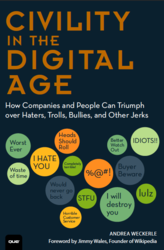 People need the right skills and tools to make sure negative forces don't take over
(PRWEB) February 25, 2013
Interacting with customers and clients online is a smart business practice, but unfair attacks make companies and brands cringe  Hanging out with friends and family on social networking sites is wonderful, but troublemakers can ruin the fun with their nasty and mean-spirited comments.
The good news is that there are proven best practices and techniques for getting people to be more civil online - even when they disagree and are angry. 
In her book Civility in the Digital Age, Andrea Weckerle, founder of CiviliNation, uses case studies from companies like KitchenAid, Chick-fil-A, Groupon and others to illustrate the issues many companies and individuals face on the Internet. She provides an easy-to-follow blueprint for bringing digital civility and sanity back to the digital world.
"The Internet has irrevocably changed how we live and communicate, in many ways for the better. However, there's a certain contingent online who want to hijack the Internet for nefarious purposes and attack and silence those who oppose them," said Weckerle. "CiviliNation believes the Internet can be an embracing place where people safely come together to share ideas and work through even some of the most difficult issues of today. But people need the right skills and tools to make sure negative forces don't take over."   
Jimmy Wales, founder of Wikipedia and a CiviliNation board member, wrote the book's foreword and said, "Attacks on companies and individuals on the Internet are at an all-time high. We can be understanding about the human propensity for outbursts while insisting on a civil discussion working toward resolution of the issues."
In this book, readers will:  

Master the foundational skills needed to resolve and prevent conflict online
• Recognize online troublemakers and strategize ways to handle them                   
• Learn the difference between what people say and what they really want
• Learn how to have constructive conversations even when tempers are hot    
• Create a positive online footprint, or start cleaning up a negative image
• Implement a 30-day plan for better conflict management online
About the Author: Andrea Weckerle founded and leads CiviliNation, a nonprofit dedicated to reducing online hostility and character assassination. She previously worked at the Legal Management Services division of a global professional services firm, helping to design, develop, and implement comprehensive alternative dispute resolution systems for Fortune® 500 firms. She also underwent extensive mediation training, earning certificates in Commercial Mediation and Conflict Resolution Processes. Her work has been featured in The Wall Street Journal, CNN.com, NY Daily News, and Advertising Age.
About Que Publishing: Que Publishing is an imprint of Pearson, the world's leading learning company (NYSE: PSO).